After reviewing  the ASUS X99-Pro motherboard a few weeks ago OCDrift today will be taking a look at another X99 motherboard, which is the ASUS X99-A. This motherboard is available on the market at sub-RM 1000 with an attractive price tag of RM 988 making it an attractive price point for entering onto Intel's new enthusiast X99 platform.
Despite being an entry-level motherboard, the ASUS X99-A still gets most of the features that we've seen on higher-end X99 motherboards such as ASUS's patent-pending OC Socket, 5-way Optimization by Dual Intelligent Processors 5, ultra-fast M.2 socket, SATA Express port, indestructible Intel Gigabit LAN, best Crystal Sound 2 audio, media-acclaimed UEFI BIOS, and refined overclocking features. Let's start by taking a closer look at the specifications of the ASUS X99-A.
Product Link: http://www.asus.com/Motherboards/X99A/
Suggested Retail Price: RM 988
Specifications
Specifications of ASUS X99-A versus X99-Pro.
Overview
Layout overview of ASUS X99-A.
Unboxing
The retail packaging of the ASUS X99-A motherboard looks very similar to that of the X99-Pro. It's based around an attractive black colour with white accents. The front of the box showcases a big picture of the motherboard along with the ASUS logo and product name. Another thing that you will notice is that the 5-Way Optimization technology badge. Across the bottom of the box you can see some logos showing the motherboard's features such as the support for Intel's Core processor, X99 chipset, supports both NVIDIA's SLI and AMD's CrossfireX technologies, as well as DTS UltraPC II and Connect supports.
The back side of the box depicts full specifications of the X99-A and overview of the motherboard's layout. Here ASUS explains in details about some interesting features that have been loaded on the X99-A which include the 5-Way Optimization by Dual Intelligent Processor 5, the patent-pending OC Socket, Media Streamer and gaming technologies featuring Turbo App, Crystal Sound 2, and TurboLAN. Wi-Fi GO! technology is also explained although this motherboard doesn't come with a Wi-Fi module.
Being an entry-level motherboard doesn't mean that it doesn't come with essential accessories. You will get a detailed user's manual, the OC Adrenaline sticker, a DVD containing drivers and utilities, ASUS Q-Shield, four 6Gbps SATA3 cables, a flexible ASUS SLI bridge, and, the ASUS case badge, and a set of Q-connectors.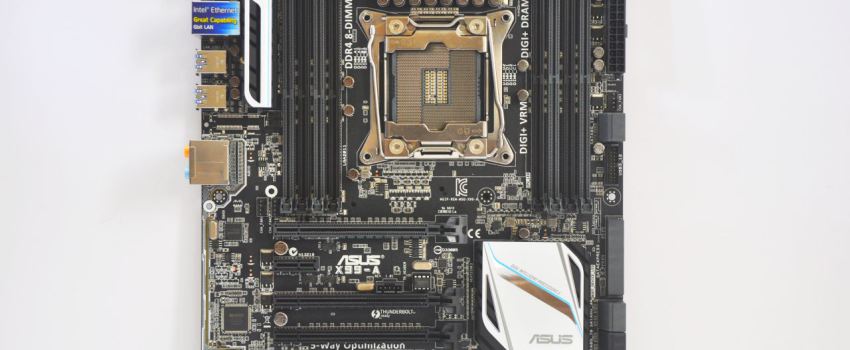 Moving on to the motherboard itself. Similar to X99-Pro, the X99-A also features a black and white colour scheme. Measuring 12 inch x 9.6 inch (30.5 cm x 24.4 cm) in dimensions, the motherboard conforms to the standard of ATX form factor. The PCB layout of the X99-A is exactly the same as the X99-Pro. The only differences are the latter has a shroud covering the I/O panel and comes with the Wi-Fi GO! socket and its module. Also missing from the X99-A is the heatsink covering the ICs above the top PCIe 3.0 X16 slot.
Similar to any other X99 series of motherboards from ASUS, the X99-A also feature patent-pending OC Socket to push CPU and DDR4 performances to the limit. There are dedicated heat-detection area employed on these heatsinks to measure temperature through UEFI BIOS and AI Suite III. The 8-pin 12V CPU power connector is located above the top heatsink to supply power to the CPU socket. There are two fan headers located just above the left bank of DIMM slots.
As you can see, there are eight DIMM slots that support up to 64 GB of DDR4 memory in Quad Channel configuration and up to 3300MHz of memory frequency when overclocked. These memory slots also support Intel Extreme Memory Profile (XMP) which when enabled will set your memory frequency and timings to their rated listing.
On the top right of the X99-A's PCB you will find the MemOK! button, a pair of 6Gbps SATA 3 ports, a USB 3.0 header, fan headers and the 24-pin power connector which supplies power to the motherboard. The MemOK! button will solve memory problem that's preventing your system from booting.
This white rectangular heatsink is responsible for cooling of the Intel X99 PCH. You will also see the TPU IC which commands the auto overclocking with a flick of the TPU button.
When it comes to expansion slots, ASUS provide three PCIe 3.0 x16 slots, one PCIe 2.0 x16 slot running at x4 mode and a pair of PCIe 2.0 x1 slots. For the PCIe 3.0 x16 slots, when you're using a 40-lane CPU the motherboard supports full x16 bandwidth with a single graphics card, x16/ x16 bandwidth with dual cards, and x16/ x16/ x8 with triple cards. For 28-lane CPU, the GPU configurations would be running at x16, x16/x8, and x16/x8/x4 modes. You can also see a pair of fan headers located above the top PCIe 3.0 x16 slot for extra fan connections. Sitting between the top and the second PCIe x16 slots are the Thunderbolt header and the BIOS chip. Also spotted, the Lithium ion CMOS battery between the third and the last PCIe x16 slots.
Along the bottom of the motherboard, from left to right, you can see the S/PDIF header, Front Panel Audio connector (AAFP), a fan header, a Serial port connector, the Power and Reset buttons, the Q-code LED panel, the TPM header, an USB 3.0 header, a pair of USB 2.0 headers, system panel connector.
Below the X99 chipset heatsink, we have the CPU OverVoltage (OV) and Clear RTC RAM jumpers, the EZ XMP, EPU and the TPU switches, followed by the DirectKey connector, and a fan header. Lastly, you can also see the M.2 Socket 3 port running of PCIe 3.0 X4 mode which is compatible with 2242, 2260, 2280, 22110 storage devices. When this M.2 socket is occupied, the last PCIe x16 slot will be disabled because both are sharing bandwidth with each other. The CPU OV jumper allows for higher voltage settings for more overclocking potentials. The EZ XMP switch will set your memory to its XMP profile on-the-fly without needing to go into the BIOS settings. The EPU switch will activate energy saving features while the TPU switch offers user two levels of automatic overclocking.
ASUS took full advantage of the X99 chipset by providing their X99-A with a total of eight 6Gbps SATA 3 ports which are natively controlled by the X99 chipset supporting Raid 0, 1, 5, 10 technology. In addition, you get one bank of SATA Express natively controlled by the X99 chipset to provide a 10Gbps transfer speed. Two of the ports here are also compatible with 6Gbps SATA 3.
Then we have some connectivity options around the back I/O panel. These include, from left to right, the USB BIOS Flashback button, the PS/2 keyboard and mouse combo port, a pair of USB 2.0 ports (bottom port supports USB BIOS Flashback), another pair of USB 2.0 ports, a block containing the Gigabit LAN port powered by Intel I218-V controller and a pair of USB 3.0 ports. The next two blocks are consisted of two USB 3.0 ports each. The last block contains five audio jacks, and an optical S/PDIF audio output. Again, the I/O panel layout is exactly the same as the X99-Pro except that you won't get the Wi-Fi GO! socket and its module.
Dismantling the top and left heatsinks reveals the 8-phase Digi+ VRM power delivery design which is responsible for CPU overclocking and another four phases to drive memory overclocking. Besides that, ASUS use high-quality 5K-Hour solid capacitors which are claimed to have 2.5 times longer lifespan than conventional capacitors with excellent durability.
To ensure reliability and stability during overclocking, ASUS has decided to use eight high quality rectifiers labeled 4C85N to convert alternating current (AC) to direct current (DC) power.
Removing the PCH chipset heatsink unveils the X99 chipset that has been applied with a good amount of thermal paste.
For the best audio experience during gaming session, ASUS use their exclusive Crystal Sound 2 audio solution on the X99-A. Based around Realtek's best audio chip named ALC1150 codec, Crystal Sound 2 features Audio Shielding, EMI protection, Unique de-pop circuit, audio amplifier, premium Japanese-made audio capacitors, as well as DTS Ultra PC II and DTS Connect technology for maximum audio quality. Audio Shielding ensures precision analog/digital separation and greatly reduced multi-lateral interference. Unique de-pop circuit reduces start-up popping noise to audio outputs. Audio amplifier provides the highest-quality sound for headphone and speakers. Premium Japanese-made audio capacitors provides warm, natural and immersive sound with exceptional clarity and fidelity. The audio circuitry is isolated from the main PCB to minimize the interferences made by neighboring components and eventually produce a good audio quality.
Flipping over to the back of the motherboard we can see a retaining heatsink and a backplate to hold the MOSFETs and the CPU socket on the other side of the board, respectively.
OC Socket
Basically a normal X99 motherboard would have the LGA2011-3 socket with 2011 pins. ASUS however take one step further by adding even more pins to their CPU socket to provide more performance out of the new Haswell-E processors. They call it OC Socket.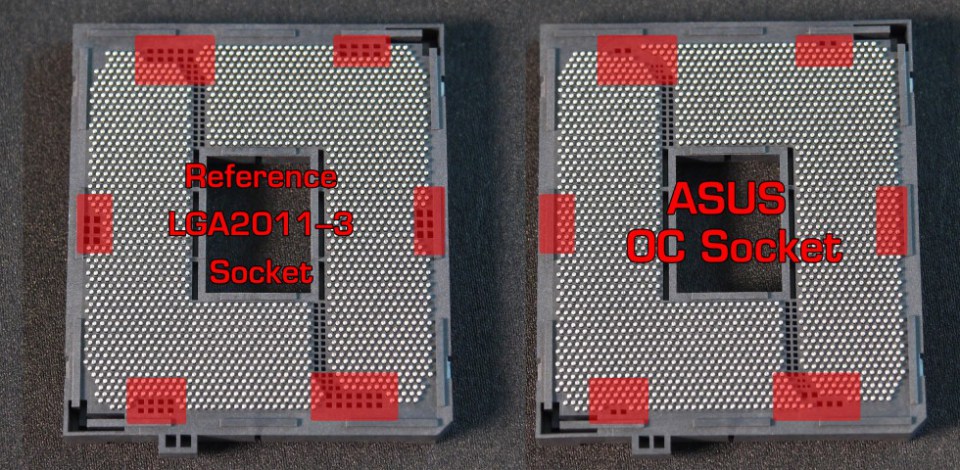 Reference LGA2011-v3 Socket (left) vs ASUS OC Socket (right)
ASUS OC Socket (left) and Intel Haswell-E CPU
The OC Socket provides 3 distinct advantages. The first advantage would be more voltage can be monitored. With the introduction of Intel's FIVR technology, many voltages including vCore, VCCSA are hidden from view in the stock configuration. With the OC socket, ASUS is able to once again able to bring everything to the table and give you full control over your CPU.
The OC Socket also increases memory overclocking potential by more than 15 % on one DIMM per channel, enabling you to squeeze every last ounce of performance from your DDR4 memory.
In addition, the OC Socket is an awesome option for extreme overclockers because it allows users to exceed Intel's MSR after hitting the CPU core voltage limit. With the OC Socket, it allows overclockers to push the cache (uncore) frequency more than any regular LGA2011-based motherboard without any hard modification applied. For more details, please refer to ROG website.
Features
The ASUS X99-A is equipped with ASUS' patent-pending OC Socket that provides even higher overclocking performance out of the Haswell-E processors. The exclusive 5-Way Optimization by Dual Intelligent Processors 5 feature allows for one click overclocking and cooling. You also get ultrafast transfer speeds trough the onboard M.2 socket. ASUS offers the most advanced Crystal Sound 2 audio solution to provide the best sound quality during heavy gaming battle. Besides that, you can also access your PC remotely and stream multimedia content anywhere, anytime through ASUS HomeCloud. All of these ingredients will definitely make your X99 build an awesome gaming rig.
The UEFI BIOS
The layout design of the X99-A UEFI BIOS looks very similar to that of ASUS's Z97 motherboards in which it comes with a dark brown background and white/yellow texts. You can find the descriptions of every option displayed at the bottom of the screen while the right pane shows the current hardware settings. ASUS offer two modes for the UEFI BIOS which are the Advanced Mode and EZ Mode.
The Advanced Mode is suitable for experienced performance enthusiasts that demand for more adept of tuning abilities for higher level of overclocking.
The EZ Mode is easy to learn, use, and manage for users who do not want to spend the time going through the advanced sections of the BIOS. It displays frequently-accessed setup info. Users can choose system performance mode on demand and also drag and drop to set the boot priority.
The AI Suite III
ASUS AI Suite III is an intuitive central hub that provides access to the vast majority of ASUS monitoring and control utilities on the X99-A. This utility offers a thorough control for the TurboV Processing Unit (TPU), Energy Processing Unit (EPU) to enhance energy efficiency, DIGI+ Power Control for enhanced performance, increased efficiency and optimum reliability, Turbo App to configure the system to run faster in certain applications, set network priority and such, and Fan Xpert3 for unrivalled customizable fan control, allowing you to supervise overclocking, energy consumption, fan speeds and voltages. These are the five elements of the 5-Way Optimization Dual Intelligent Processors 5. During our testing, the software worked flawless without giving any instability issue.
Test Setup & Testing Methodology
We will be taking the ASUS X99-A motherboard for a spin on our DimasTech EasyDual V2.5 test bench. The processor that we used is in the form of eight-core Intel Core i7-5960X "Haswell-E" CPU which was overclocked to a core frequency of 4.5GHz and 4.0GHz cache frequency with a voltage of 1.375v.
Meanwhile, we overclocked our G.Skill Ripjaws4 DDR4 2666MHz C15 16GB memory kit to run at a memory frequency of 3000MHz 15-15-15-35-1T with a voltage of 1.35V. For BIOS settings, please refer to "The UEFI BIOS" chapter that we've discussed just now.
To keep temperature low we used custom watercooling kit to take handle the heat generated during overclocking. As for graphics power, we used the ASUS ROG Matrix R9-290X Platinum graphics card running at factory clocks and with stock cooler. As usual, we used Corsair AX1200 power supply unit (PSU) to provide sufficient power to the system.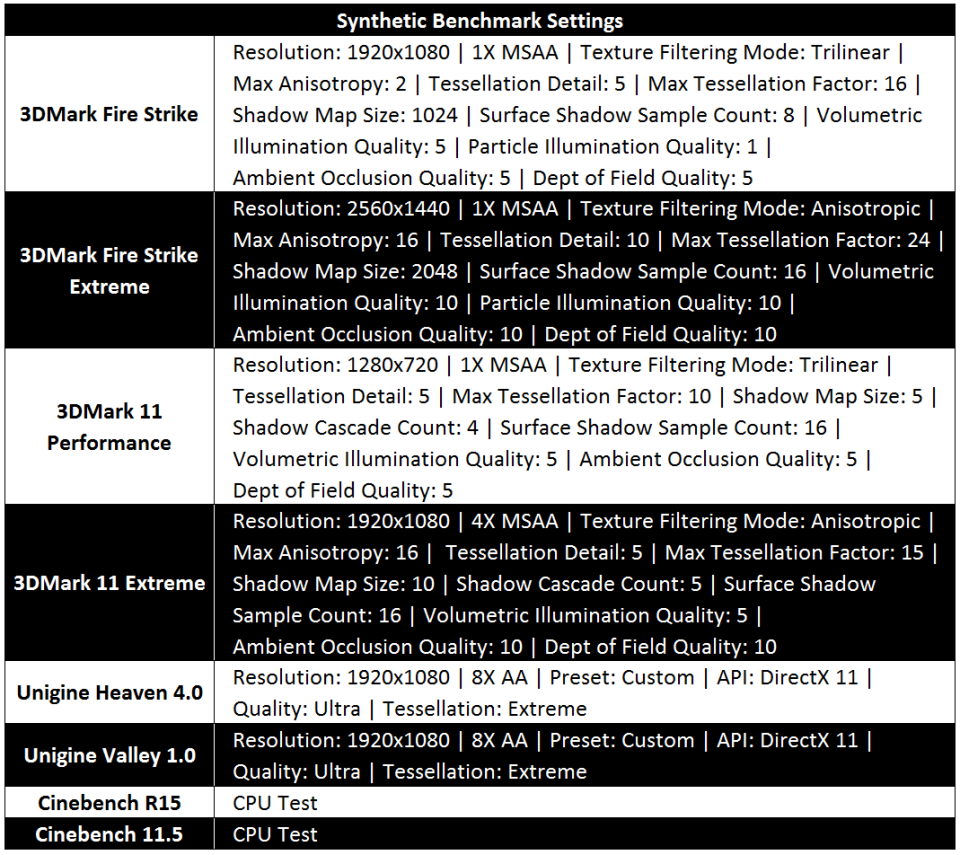 The synthetic benchmark settings.

The in-game benchmark settings.
CPU OverClocking
Similar to X99-Pro that we've reviewed not long ago, ASUS also provide the X99-A with some overclocking mechanisms which include overclocking through the onboard TPU switch, BIOS overclocking, and OS-based AI Suite III overclocking utility. The TPU I switch will overclock the CPU ratio (multiplier) while maintaining the BCLK clock at 100MHz. When this TPU I was activated, our Core i7-5960X processor will be overclocked to a core frequency of 3.9GHz from the base clock of 3.0GHz. The TPU II switch is supposed to overclock the BCLK to 125MHz but for some reason it was not the case in our testing, the BCLK actually booted at 100MHz with a multiplier of x33 to produce a core frequency of 3.3GHz. Something is not right here and ASUS need to fix this issue.
Next up, we tested the onboard EZ XMP switch. Activating the EZ XMP switch will not only push the memory frequency to higher performance but it will also affect the CPU core and uncore (cache) frequencies. You can see the differences of hardware setting resulted from various overclocking methods as described in the table below.
Manual overclocking allowed us to get an impressive core frequency of 4.5GHz and 4.0GHz cache frequency out of our Core i7-5960X "Haswell-E" processor. To test whether the 4.5GHz overclock is stable for 24/7 operation we stressed the chip with the AIDA64 System Stability Test for about 15 minutes. Cooled by custom water cooling kit, there was no error or thermal throttling observed hence we can conclude that this overclock is suitable for daily run. The average core temperatures recorded was 89°C with a vCore of 1.377V applied.
Memory OverClocking
When it comes to memory overclocking, the ASUS X99-A is an awesome motherboard. However newbie overclocker that lacks experience might find it a bit difficult to deal with the memory overclocking on this motherboard due to the absence of memory profile preset. But thanks to years of memory overclocking experience we had no problem pushing our DDR4 memory kit. Most of overclocking settings were done with by manually inserting values through the UEFI BIOS with the help of ASUS's MemTweakIt and TurboVCore utilities. Our overclocking results are as follows:
DDR4 2666MHz 14-14-14-35-1T (Tightened timing):
DDR4 3000MHz 15-15-15-35-1T:
DDR4 3100MHz 16-16-16-36-1T:
DDR4 3200MHz 16-16-16-36-1T:
DDR4 3300MHz 16-16-16-36-1T:
After looking at the overclocking performances of the ASUS X99-A, let us just proceed to the performance numbers!
Synthetic Benchmarks
For these tests, we overclocked our Core i7-5960X processor to a core clock of 4.5GHz which is 100MHz slower than the rest of the CPUs installed on other non-X99 motherboards that we've tested. So it is expected that the Core i7-5960X clocked at 4.5GHz will lose to quad-core Core i7-4790K, i7-4770K, i7-3770K processors in some of the 2D benchmarks such as the SuperPi and Hyper Pi. Nevertheless, its performance is very identical to other X99 boards which were also powered by a Core i7-5960X processor. In terms of 3D benchmarks, the ASUS X99-A performed in line with other X99 boards but clearly outperformed the rest of the Z97/Z87/Z77 motherboards. As for boot time test, the X99-A took around 13 second to finish booting.
Storage Benchmarks
ASUS offer the X99-A motherboard with a total of eight 6Gbps SATA 3 ports which are natively controlled by Intel's PCH. During our storage performance testing, the motherboard's SATA port performed well against the rest of the motherboards. However, we didn't have the chance to test the performance of the onboard M.2 socket due to the lack of M.2 storage devices but we will definitely give it a try as soon as we get the M.2 solid-state drive (SSD).
Game Benchmarks
The game titles that we selected demand GPU power over CPU power therefore in each test the difference is rather negligible. During our testing, the X99-A performed similarly against other motherboards.
Audio Performance
RightMark Audio Analyzer was used to measure the analog signal quality of the Crystal Sound 2 system. The performance grades given are from Very Poor to Excellent. During our testing, the X99-A was able to achieve an overall performance score of Excellent in Rightmark Audio Analyzer.
Temperature & Power Consumption
In this test we used AIDA64 Stability Test to examine the maximum heat output generated by the CPU by the mean of core temperatures. AIDA64 will stress the CPU to 100% usage, which will help us to understand how hot this CPU can get when being stressed at maximum level. It should be mentioned that the room temperature during the testing was 30°C, in a non-air conditioned room. Here, we can see that all ASUS X99 motherboards sit fairly close to each other. At stock CPU frequency, the ASUS X99-A system recorded 54°C in CPU's core temperature when loaded with AIDA64 Stability Test. When overclocked to 4.5GHz, the temperature shot up to 89°C but still lower than the Tjmax of the Core i7-5960X, which is 105°C.
We then measured the power consumption of the whole test system. At stock CPU frequency, the test system powered by ASUS X99-A consumed around 263 watts when loaded with AIDA64 Stability Test. This is 10 watts and 1 watt more than what we got on the Rampage V Extreme and X99-Pro at stock, respectively. When the CPU was overclocked to 4.5GHz, the X99-A draws 457 watts and just 3 watts more than what we had on the Rampage and 8 watts more than the X99-Pro. The lowest system consumption was achieved by the ASUS Maximus VII Extreme which was pulling 261 watts when overclocked, but let's don't forget that the Intel Core i7-4790K has half of the cores/threads and half of the memory capacity that the ASUS X99-A has.
Thoughts & Verdicts
Sitting in the RM 1000 range, the ASUS X99-A is one of the cheapest X99 boards that we've seen to date. When you look at an enthusiast-class motherboard at this price point, you do expect that it will lack some fancy features that are seen on motherboards that are priced higher. The X99-A gives you everything that the Haswell-E and X99 have to offer. These include the ASUS's patent-pending OC Socket, support for multi-GPU up to 4-way of SLI/ CrossFireX configurations, best Crystal Sound 2 audio solution, ultra-fast M.2 and SATA Express storage ports, Intel Gigabit LAN wired connectivity, tons of USB and SATA ports, and great AI Suite III utility. The motherboard however lacks Wi-Fi and Bluetooth connectivity, which is supposed to be a standard these days. Other than that it is a really decent motherboard.
The X99-A doesn't lack overclocking features when ASUS equipped it with 8-phase Digi+VRM power design to drive CPU overclocking and another 2+2 phases for memory overclocking. Beginner overclockers would rejoice as ASUS provide automatic overclocking feature in the form of onboard TPU switch which is simple to use and overclock your CPU on-the-fly. However don't expect much from this TPU feature because manual overclocking is for sure still the best overclocking method. As for DDR4 memory overclocking, the lack of memory profile preset in the BIOS only means that it requires some experience and knowledge to push your memory kit to a higher performance level.
When talking about its performance numbers, the ASUS X99-A doesn't disappoint us when it performed in line with the rest of the X99 motherboards that we've tested. Thanks to the 8-core Core i7-5960X processor, the X99-A handsomely outperformed Z97/Z87/Z77 motherboards in our 3D benchmarks. In terms of temperature, the ASUS X99-A system when overclocked yielded an average core temperature of 89°C, which is slightly better than other X99 boards that we've tested. Power consumption wise, the X99-A draws 457 watts which is 3 watts lower than what we obtained on the Rampage V Extreme and 8 watts better than the X99-Pro.
With all the feature set that the ASUS X99-A has to offer, it is no doubting that this motherboard is one of the best X99 motherboards made by ASUS considering the bang-for-the-buck factor.
Performance: 5/5
Materials: 4/5
Specifications: 5/5
Appearance: 5/5
Performance/Price Value: 4/5
Pros:
Great performance
Excellent CPU and memory overclocking capabilities
Patent-pending OC Socket provides more overclocking performance
Attractive white colour scheme
Solid build quality with high-end components
Nice board layout with good placement of primary PCIe slots
Support up to 3-Way and Quad-GPU SLI and CrossFireX configurations
Lots of SATA 3 ports for storage
Tons of USB 3.0 ports
Included an M.2 socket and SATA Express port for extra storage options
Best Crystal Sound 2 audio solution
Great software package - AI Suite III
Stable UEFI BIOS
Cons:
Price could be lower
Boot time could be improved
EZ XMP switch need to be refined to work correctly with TPU switch
White colour theme might not match your system
BIOS doesn't offer memory profile preset

Lacks Wi-Fi + Bluetooth module for wireless connectivity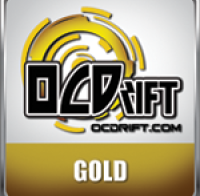 ASUS X99-A received Gold Award from OCDrift.com
Disclaimer: OCDrift.com gives out our own award based on the Hardware Performance, OverClocking Ability, Innovation, and Value as determined by the reviewer

One of the most respected OverClocker here in Malaysia with vast knowledge in Motherboard, Graphics Card and Memory. The nick "owikh84" is not only well known in local tech sites but also international forums such as XtremeSystems.org, Overclock.net and so on.