After the ASUS Maximus VII Gene has made ​​a start in our reviews of Z97 motherboards, followed by the ASUS Z97 Deluxe and now we will be taking a look at a motherboard from another vendor, the ASRock Z97 Extreme4. The Z97 Extreme4 is a mid-range socket LGA1150 motherboard targeted for the Haswell, Haswell Refresh, and Devil's Canyon processors. It will also support the upcoming 14nm-based processor codenamed Broadwell.
Compared to the predecessor platforms, there are some additions that have been made on this Z97 Extreme4. Having a DNA of the recently launched Z97 chipset, it is equipped with the M.2 socket 3 and SATA Express ports for the lightning-fast storage drives. ASRock has also decided to design the board with their exclusive Super Alloy Technology, including XXL Aluminum Alloy Heatsink, Premium Alloy Choke, Dual-Stack MOSFET, NEXFET MOSFET, and 12K Platinum Capacitors. Besides that, it gets Full Spike Protection, Sapphire Black PCB, and other nice features from ASRock.
We have seen in the Z77 and Z87 platforms that the Extreme4 line of ASRock motherboards tend to offer a good performance at an attractive price. Will this Z97 Extreme4 motherboard continue the same trend like its predecessors? We will find it out later in this review.
Product Link: http://www.asrock.com/mb/Intel/Z97%20Extreme4/
Suggested Retail Price: RM 579
Specifications
Overview
Unboxing
The ASRock Z97 Extreme4 ships in a black box illustrated with a big gold coloured "X" to emphasize their XFast features including XFast USB, LAN, RAM along with XFan technology. Across the bottom of the retail packaging you will see some of the motherboard features which include the ASRock APP Shop, Purity Sound 2, ASRock Cloud, M.2 Socket, HDD Saver, four graphics outputs, support for Intel's Core processor, Intel Z97 chipset, NVIDIA's SLI and AMD's CrossfireX supports, DTS Connect supports, as well as Windows 8.1-ready.
The back of the box shows the specifications and explains more details about key features of the ASRock Z97 Extreme4, including the XXL Aluminum Alloy Heatsink Design, Dual-Stack MOSFET for CPU power, NEXFET MOSFET, the rock-solid quality Sapphire Black PCB, the ultra-durable 12K Platinum Capacitors, and Premium Alloy Choke. Besides that, here you will be briefed about the ASRock Cloud, Purity Sound 2, ASRock APP Shop, thick Gold Contact in DIMM and PCIe slots, as well as the SATA Express and M.2 ports.
As this is a budget oriented motherboard so the bundle is lean towards cost cutting. You will get a pretty standard accessories package including a detailed user's manual, a quick installation guide, a support CD, an I/O Shield, an SLI cable, a HDD Saver cable, an installation screw for the M.2 drive and four SATA data cables.
ASRock ditches the gold and black colour scheme found on their 7 and 8 series Extreme line of motherboards and go for a light blue and black combination. It gives a fresh new look to the motherboard and good for those who are going to build a new rig with a blue theme. However, the colour scheme might not be so attractive for some of us who don't have the blue theme.
The ASRock Z97 Extreme4 is very well finished and comes with durable 12K Platinum Capacitors, offers a digital VRM with 12-phase power design to regulate the power to the CPU and another 3 phases to take care of the memory activities. The twelve phases powering the CPU are wired to a powerful dual-stack MOSFET, with two silicon dies have been stacked on top of each other. The three phases for the memory feature next generation NEXFET MOSFETs to provide higher efficiency with lower temperature and resistance therefore will improve the DRAM performance. There is an 8-pin 12V CPU power connector located on the upper left of the VRM heatsink, which supplies power to the CPU socket. Also spotted,a pair of 4-pin PWM CPU fan headers located near the top heatsink to connect your favourite CPU cooler fans.
Moving on to the top right portion of the Z97 Extreme4, you will find four DIMM slots that are specified to run at dual channel configuration with support for Intel Extreme Memory Profile (XMP) and 32GB capacities. We would like to see the memory slot latches to have single-sided clips in their future products. The 24-pin ATX power connector is located on the right of the bank of memory slots to supply power to the motherboard. Next to it is a USB 3.0 header supporting two ports for front casing connectivity.
The Z97 Extreme4 has a plenty of expansion slots. There are a total of three PCIe 3.0 x16 slots, along with three PCIe 2.0 x1 slots. The PCIe 3.0 x16 slots support up to 2-way quad-GPU SLI and 3-way Quad CrossFireX configurations. However, the top two primary slots will run at x8 both when the second slot is occupied while the PCIe lane bandwidth will turn to x8/ x4/ x4 when three AMD graphics cards are installed. However, 3-way SLI for NVIDIA graphics cards is not supported due to the fact that SLI requires x8 PCIe lanes or greater to work, unless if the motherboard is equipped with a PLX chip. Above the top PCIe 2.0 x1 slot there is a 4-pin Molex power connector to aid auxiliary power for stability of multi-GPU setups. Next up, you will find a 10Gbps M.2 socket 3 connector sitting between the lower primary PCIe X16 slots. Formerly known as next-generation form factor (NGFF), M.2 is the replacement for the mSATA interface found on previous generation of motherboards. Across the bottom of the motherboard, from left to right, you can see a COM Port header, a Power Fan connector, a Clear CMOS jumper, a Thunderbolt header, a pair of USB 2.0 headers, a speaker header, a front panel connector bank, a debug LED, along with Clear CMOS, Power, and Reset buttons.
As usual, ASRock provides two BIOS chips in case of BIOS corruption or the BIOS chip is damaged. Out of the box you will get BIOS version of P1.00. BIOS flashing can be done through UEFI Update Utility in BIOS settings or the included A-Tuning software.
ASRock have equipped the Extreme4 with a dedicated audio chip powered by Realtek ALC1150 Audio Codec which is based around Purity Sound 2. It features a 7.1-Channel HD Audio with Content Protection, Premium Blu-ray Audio support, ASRock Full Spike Protection, Nichicon Fine Gold Series Audio Capacitors, 115dB SNR DAC with differential amplifier, TINE5532 Premium Headset Amplifier that supports up to 600 ohm headsets, Direct Drive Technology, EMI shielding cover, PCB isolate shielding and supports DTS Connect. The Nichicon Fine Gold audio caps can reduce noise level significantly that will satisfy even the pickiest audiophiles.
ASRock includes a total of eight 6Gbps SATA 3 ports and one 10Gbps SATA Express port to the motherboard. Six of the SATA 3 ports are natively controlled by the Z97 chipset supporting Raid 0, 1, 5, 10 and the other two SATA 3 ports are wired to the ASMedia ASM1061 controller. The SATA Express port is controlled directly by the Z97 chipset. Two of the adjacent SATA 3 ports will be used together with the SATA Express port when a SATA Express device is connected.
The rear I/O panel sports a total of six USB 3.0 and two USB 2.0 ports. The USB 2.0 ports and four of the USB 3.0 ports are controlled by the Z97 chipset while the rest of the USB 3.0 ports are wired to the ASMedia ASM1042AE controller. The integrated graphics iGPU gets four interfaces, which are VGA D-sub, DVI, DisplayPort, and HDMI port. There is a PS/2 port which comes handy when you have an older mouse or keyboard. Next up is the Gigabit Ethernet port powered by Intel I218V, followed by the analog audio jacks and an optical SPDIF output.
The back side of the PCB comes plain with just a single backplate at the CPU socket are. You can see some screws are used hold the VRM and chipset heatsinks located at the other side of the PCB. The components are well soldered on the entire PCB.
Features
The UEFI BIOS
The A-Tuning Utility
ASRock A-Tuning is an intuitive central hub that provides access to the vast majority of ASUS monitoring and control utilities on the Z97 Extreme4 motherboard. The utility offers a thorough control for the XFast RAM, XFast LAN, Fast Boot, FAN-static tuning, Dehumidifier, HDD Saver, OC Tweaker, System Information, Live Update, Tech Service and many more. Overall, this utility worked very well in our tests except for the System Information tab, which took quite a few seconds to load.
Test Setup & OverClocking
Overclocking was easy on the ASRock Z97 Extreme4 motherboard. We managed to push 4.6GHz out of our i7-4770K processor with this motherboard and run stable in AIDA64 System Stability Test for around 45 minutes. One of the core temperatures hit 89 °C maximum with a voltage of 1.3V supplied. Anything over 4.6GHz will result in a thermal throttling to the CPU and causing instability.
With the 4.6GHz being our stable overclock, we took this figure to proceed for our benchmark tests. We also used the G.Skill TridentX set at 2666MHz 10-12-12-25-1T, along with the ASUS ROG Matrix R9-290X Platinum as our graphics card to drive the 3D benchmarks.
Synthetic Benchmarks
Storage Benchmarks
For these storage tests, we have also included the ASUS Hyper Express enclosure, which is internally powered by two solid state drives (SSDs) in raid0 mode. It is connected to the 10 Gbps-capable SATA Express port on the ASRock Z97 Extreme4 motherboard.
For some reason the Hyper Express drive connected to the SATA Express port performed poorly in our storage benchmarks. It was supposed to yield at least more than 600 MB/s of sequential speeds, like what we obtained on the recently reviewed ASUS Z97 Deluxe but on this ASRock motherboard the speeds just maxed out below 500 MB/s. In fact, it was even slower than the SATA 3 port of any motherboard that we have tested in this review. Somehow it should be noted that the Hyper Express is just a concept product and by all means is not representing the final design of the upcoming SATA Express drives that have yet to hit the market. Nonetheless, the rest of the SATA ports performed very well in our tests just like any other motherboard.
Game Benchmarks
The game benchmark settings are listed in the table below:
The game titles selected demand GPU power over CPU power therefore in each test the difference is rather marginal. We didn't test the games with the integrated HD4600 graphics iGPU because we believe that nobody is going to use it for gaming especially with the ultra-high quality texture used on these modern game titles. Normally gamers will most likely add a dedicated graphics card for better gaming experience.
Memory OverClocking
With the memory voltage capped at 1.80V, we were able to get the Samsung kit running stable at 2800MHz 11-13-13-25-1T. Further tuning on the overclocking settings could make the score more efficient. In contrast, we were not able to overclock the Hynix, PSC, and Elpida BBSE-based ICs resulted in the motherboard unable to post. A BIOS refinement is required to overcome this memory overclocking issue.
Samsung IC RAM: G.Skill TridentX 2666C10 2 X 4GB @ 2800MHz 11-13-13-25-1T
Thoughts & Verdicts
The ASRock Z97 Extreme4 performed very well compared to the other motherboards that we have reviewed so far. During our overclocking process, we managed to get 4.6GHz out of our i7-4770K. With just a few steps in the UEFI BIOS settings will bring you to a successful overclocking and eventually boost the system performance to the next level.
We welcome the new features that come with ASRock Z97 Extreme4. This includes the best audio solution available today, which is physically separated from the rest of the motherboard, so that the noise made by other hardware components on the board can be minimized and produce a great sound quality. The introduction of the HDD Saver technology is something that all users can make use of.
The plethora of storage options, including the M.2 socket 3 and SATA Express ports, adds another positive point to this motherboard as it provides extra storage space at lightning-fast speeds. Apart from that, you get tons of USB and SATA ports to connect your USB and SATA devices to the motherboard.
Overall, the ASRock Z97 Extreme4 offers a very powerful yet inexpensive platform for Intel's latest Haswell Refresh and the upcoming Devil's Canyon processors. No doubt, ASRock has once again continue the tradition of putting the Extreme4 at a good performance and affordable price point. So, those who are looking for a motherboard with a lot of awesome features and decent overclocking potential without breaking the wallet, this is the motherboard for you.
Special thanks to our friends at ASRock for their support and we are looking forward to getting more review samples from them soon.
Performance: 4/5
Materials: 4/5
Specifications: 5/5
Appearance: 5/5
Performance/Price Value: 4/5
Pros:
+ Good performance
+ Excellent CPU overclocking performance
+ Nice chrome gold and black colour scheme with good layout design
+ High grade hardware components for durability and stability
+ Multi-GPU SLI and CrossFireX support
+ High quality Purity Sound 2 audio
+ Plenty of storage options including SATA Express and M.2 ports
+ Bunch of USB and SATA ports
+ Good software bundle including the A-Tuning
+ Intelligent UEFI BIOS
+ Informative user's guide manual
Cons:
- Price could be lower
- Mixed performance of memory overclocking
- Poor performance of SATA Express port
- No WiFi and Bluetooth feature
- Colour scheme might not be so attractive for some of us
- Memory slot latches could have come in single clip design
- Boot time could be improved with faster hardware initialization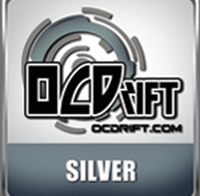 ASRock Z97 Extreme4 received Silver Award from OCDrift.com
Disclaimer: OCDrift.com gives out our own award based on the Hardware Performance, OverClocking Ability, Innovation, and Value as determined by the reviewer

One of the most respected OverClocker here in Malaysia with vast knowledge in Motherboard, Graphics Card and Memory. The nick "owikh84" is not only well known in local tech sites but also international forums such as XtremeSystems.org, Overclock.net and so on.