Review: APACER ARES 3000MHz C12 (2 X 4GB)

Features
• Supports the latest 4th Gen Intel Core Processors and Z87 Chipset
• For extreme PC enthusiasts and gamers
• Zero noise heat pipe cooling system
• Compatible with Intel Extreme memory Profiles (XMP)
• 100% tested: Passed the absolute dual-channel long-time run-in tests to ensure its excellent overclocking performance and absolute reliability
Introduction
Apacer is a brand that has been around for quite a while, but I wouldn't be surprised if you haven't heard of them before. They are a company that focused solely on storage products, which encompasses memory modules including desktop and laptop, USB and flash storage as well as solid-state drives (SSDs). Today, we'll be looking at their flagship memory kit which has been introduced into the market recently, the Apacer ARES 3000MHz C12 (ARES).
Overview
Apacer ARES DDR3 Overclocking Memory Module is named after the god of war "ARES". Features include advanced memory chips, zero noise heat pipe cooling system with a large red aluminum heat dissipation fin. It is able to operate at a blazing-fast clock rate of 3000MHz, allowing not only overclockers to create overclocking miracles but hardcore gamers to achieve their optimum performance during the games. To ensure the best effect of overclocking, Apacer's ARES series adopt the guaranteed premium memory chips that had been strictly checked.
Product Link: http://ap.apacer.com/products/DDR3-Dual-Channel-ARES-DDR3-3000
Suggested Retail Price: RM1699
Specifications
Unboxing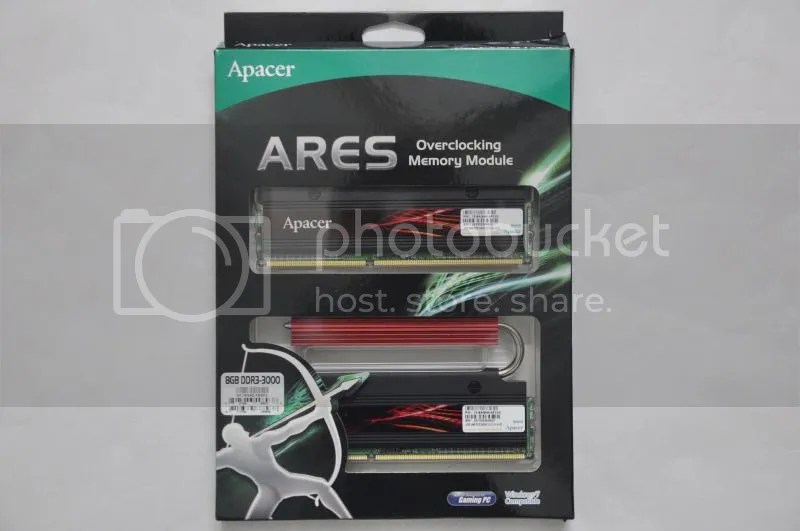 The memory modules were shipped in a green/ black box with a blister pack that is very easy to open.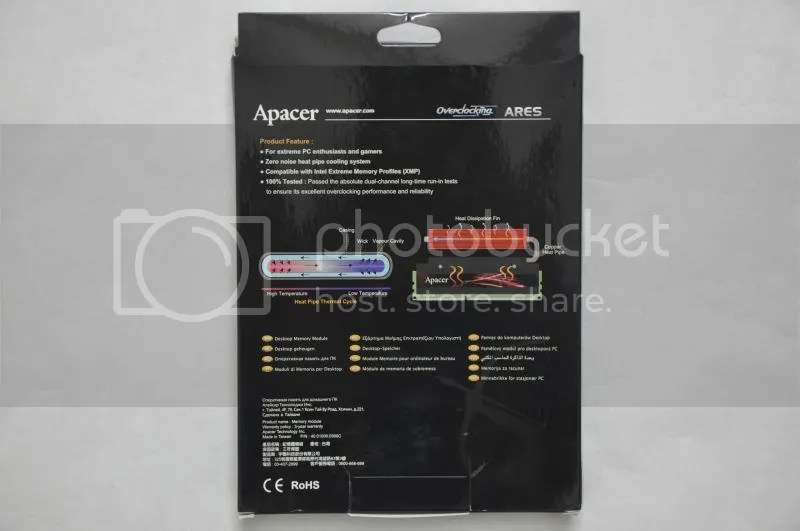 The information on the back shows its features and how the heat pipe cooling works as well as Apacer's company contact information.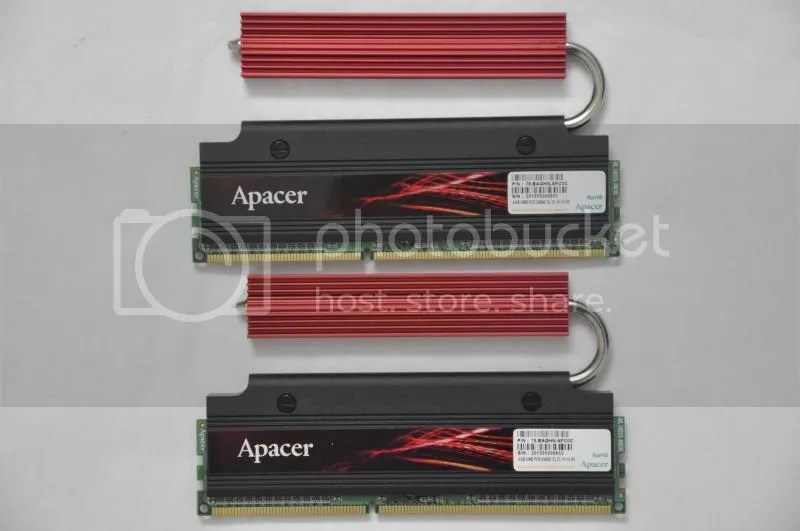 The first thing you will notice about the ARES is the unique heatspreaders with the heat pipes coming out of the top. These heatspreaders are thick and not flimsy at all. On one side of the heatspreader is an Apacer logo, as well as the information sticker containing the stock speed and timing information. From the top and the side you can see the work that went into designing the heatsink assembly to dissipate heat off the modules.
A memory module with the heatsink assembly installed on them stand at 76mm height. The heat pipe is not removable so it may cause clearance issue with some aftermarket CPU coolers.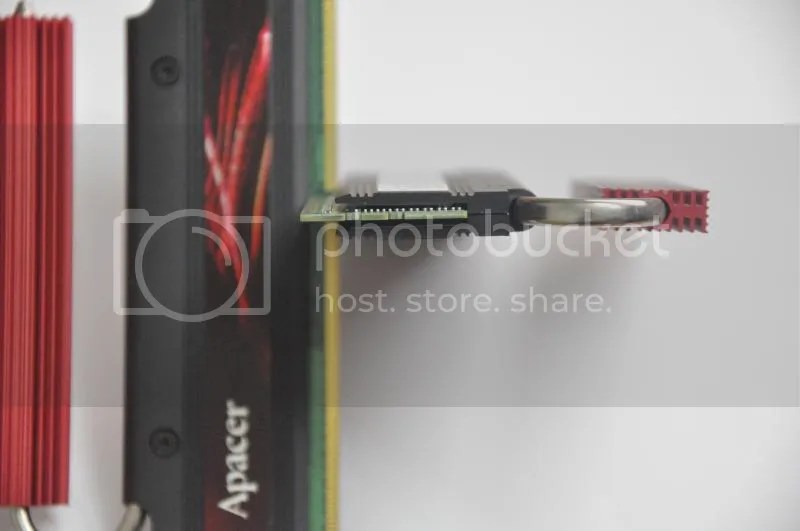 The ARES comes with single-sided and eight-layer PCB which is specially designed for overclocking effectively reduces interference and noise generated by high-speed overclocking, and effectively improves the signal quality and overclocking stability.
Test Setup
Test Methodology
All memory kits were tested by simply enabling the Extreme Memory Profile (XMP) in the BIOS after clearing the CMOS. Maximus Tweak selected was Mode 2 to help overclocking and performance.
To enable the ARES running at the rated speed of 3000MHz, I used BCLK overclocking so that the CPU core frequencies are as close as possible when they are on the other kits. CPU strap of 100MHz was used instead of 125MHz because the latter will result in CPU frequency to exceed the desired clock by too much and not fair to compare with other kits. The RAM ratio 30x is not working with the CPU strap 100MHz so I had to use BCLCK 102.1MHz and RAM ratio 29.33x to make the memory booted at 2994.6MHz. Then the BCLK was raised to 102.3MHz through ASUS TurboVCore. At the same time, CPU ratio of 45x was used so that the 4770K core speed became 4.605GHz for the ARES benchmarks and 4.6GHz for the rest. Cache/ uncore was 3.887GHz and 3.9GHz respectively.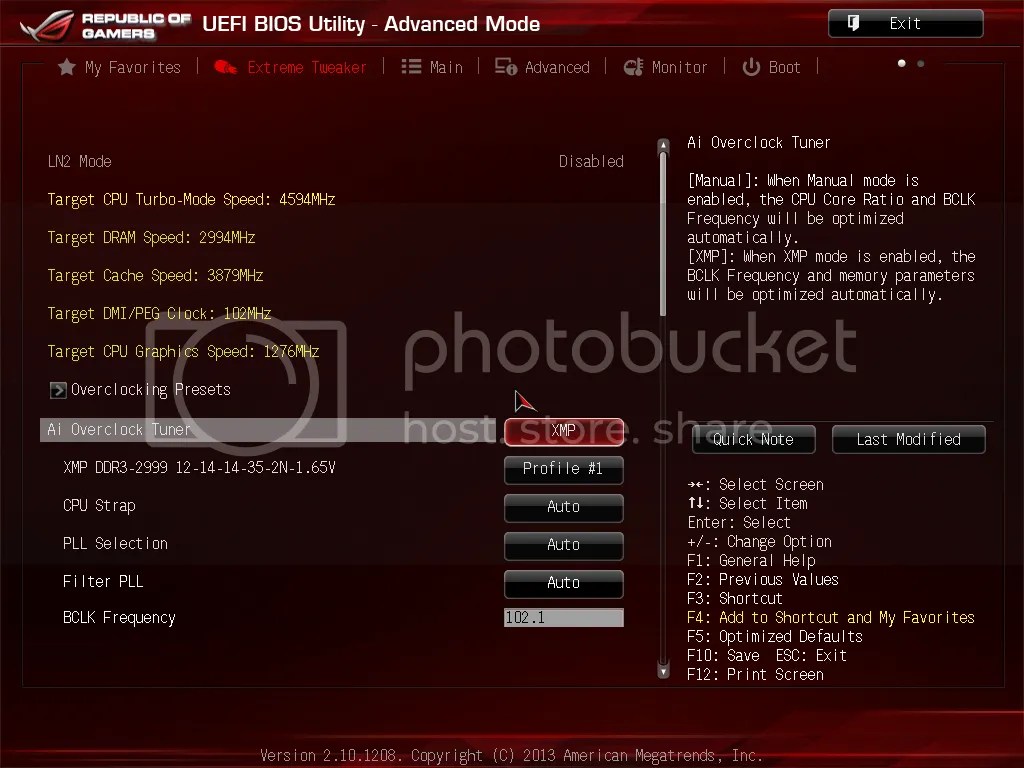 The overclock settings that I made are illustrated in the BIOS screenshot above.
Then, in Windows I adjusted the BCLK to 102.3MHz so that the final clocks look like these:
CPU clock: 102.3 X 45 = 4.605GHz
Memory clock: 102.3 X 29.33 = 3000MHz
Cache/ uncore clock = 102.3 X 38 = 3.887GHz
The game settings that I used for the benchmarks:
Stress Tests
LinX 0.6.4 w/ AVX
I used CPU strap 125MHz for this test since it's not meant for comparison with other kits. I managed to stress the ARES tweaked to 3000MHz 12-14-14-25-1T passing LinX without an error in about one hour. This test required a lot of patience and time to get it stable. Moreover, you need a combination of a CPU with a strong integrated memory controller (IMC) and a motherboard with overclocking features in order to achieve stability at this high memory frequency and low voltage.
System Performance Benchmarks
2133C8: G.Skill RipjawsX 2133MHz C8 2 X 2GB @ XMP
2666C10: G.Skill TridentX 2666MHz C10 2 X 4GB @ XMP
2800C11: G.Skill TridentX 2800 C11 2 X 4GB @ XMP
3000C12: Apacer ARES 3000MHz C12 2 X 4GB @ XMP
3000C12 (Tight): Apacer ARES 3000MHz C12 2 X 4GB @ tighter timings but still 1.65v
AIDA64 Cache and Memory Benchmark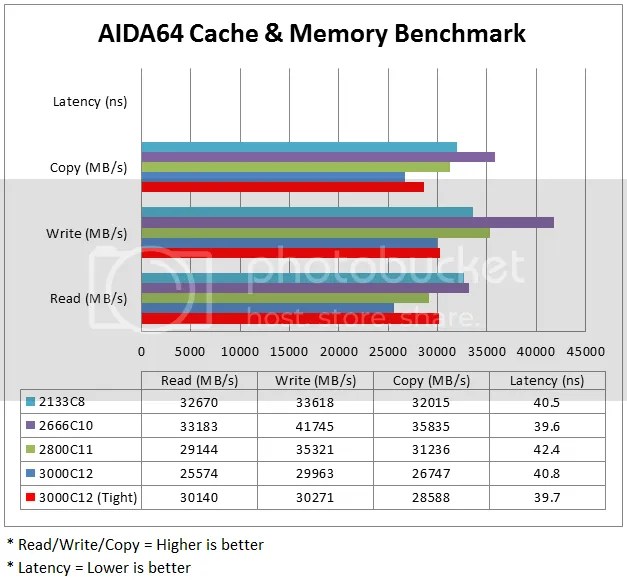 MaxxMEM2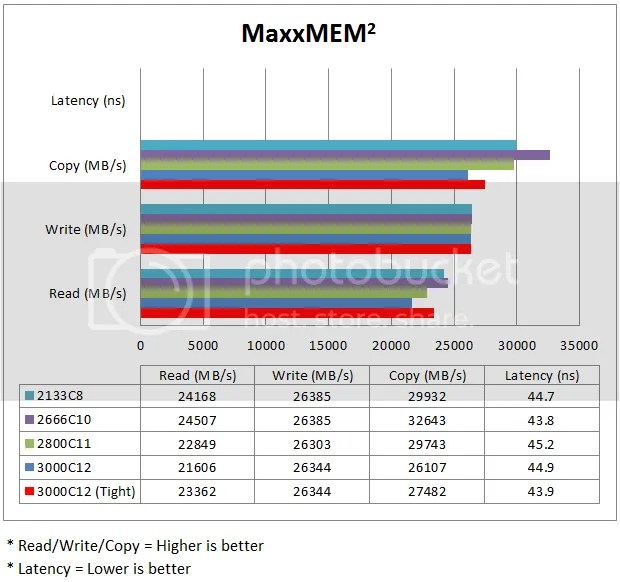 wPrime 1.55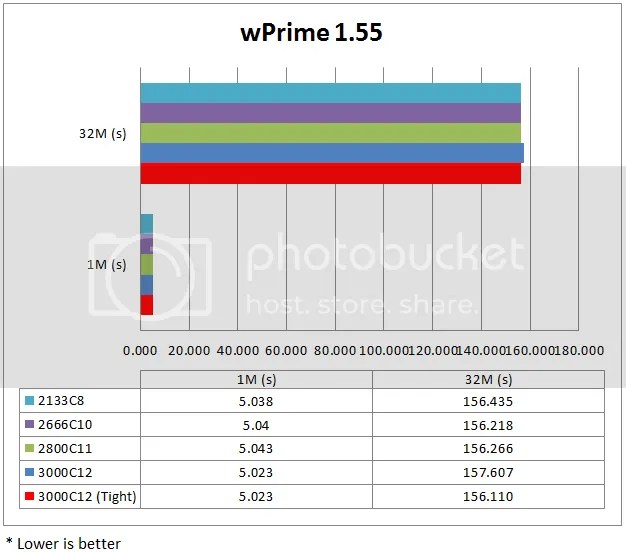 Super Pi 32M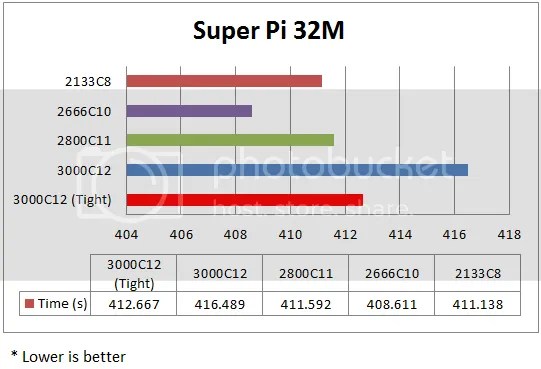 Hyper Pi 32M & 1M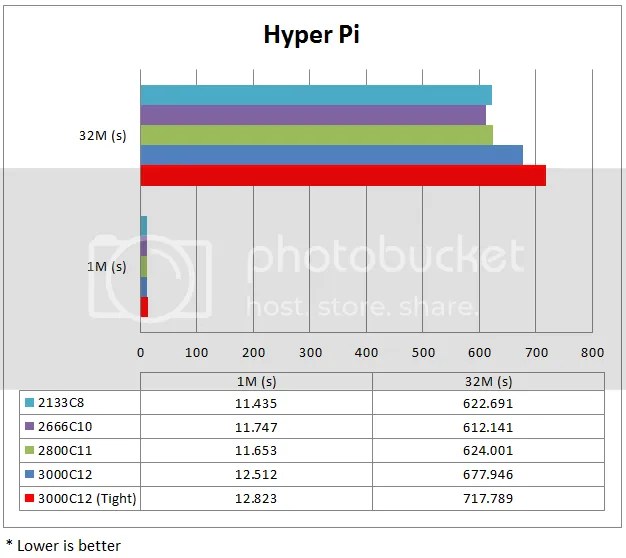 MemTweakIt 2.02.01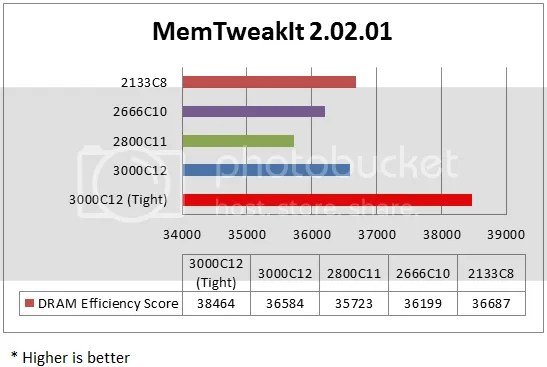 CrystalDiskMark 3.0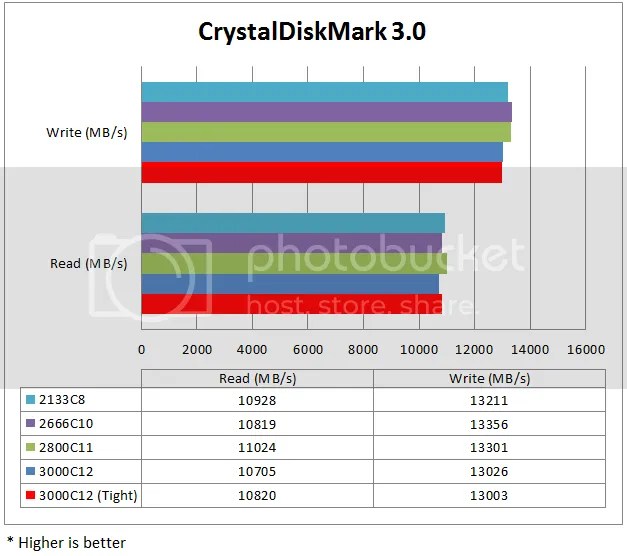 SiSoftware Sandra 2011
WinRAR 4.20
X264 FHD Benchmark 1.01
Fritz Chess 4.2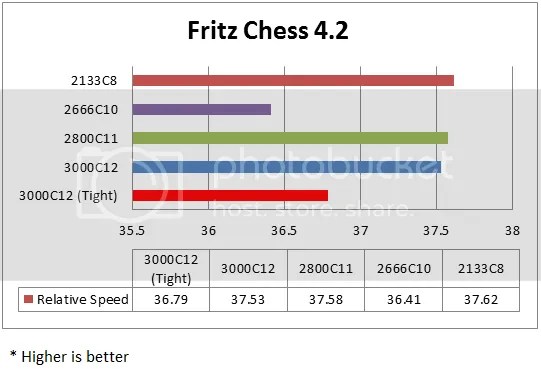 Cinebench R11.5
Cinebench R15
3D Performance Benchmarks
3DMark
3DMark 11
3DMark Vantage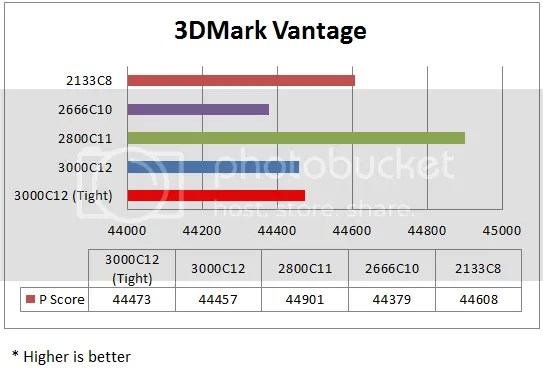 3DMark 06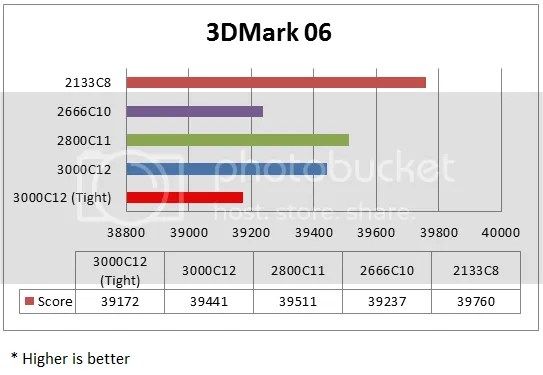 3DMark 05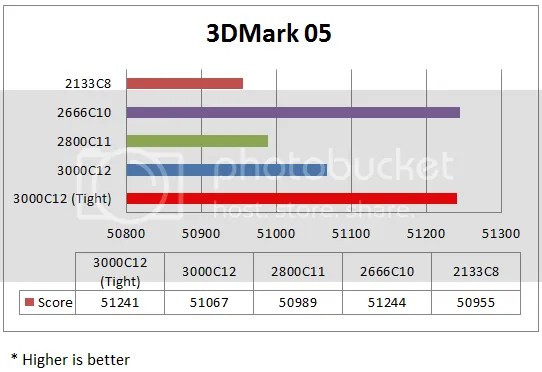 3DMark 03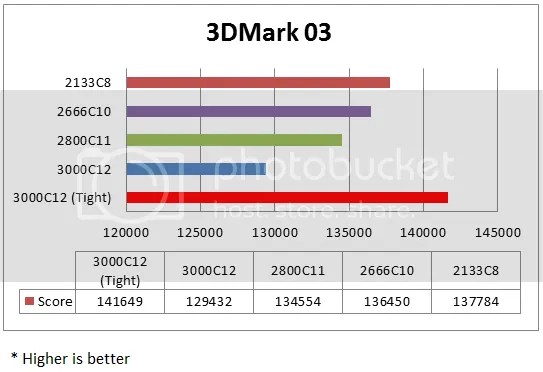 PCMark 7
Game Benchmarks
Bioshock Infinite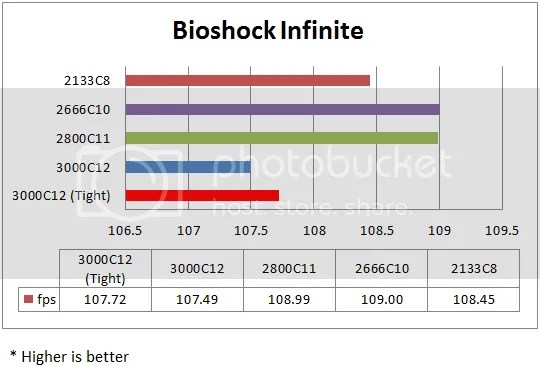 Aliens VS Predator
Sniper Elite V2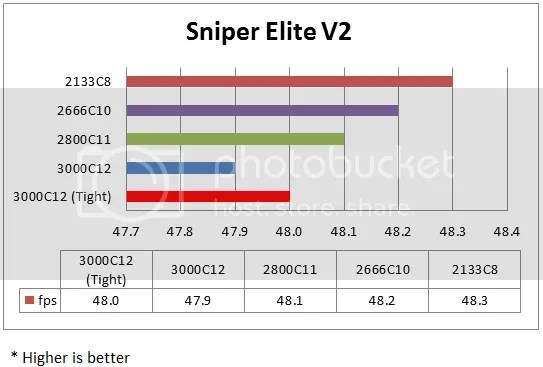 GRID 2
Memory Overclocking

No memory review would be complete without overclocking. In this review, I managed to overclock the ARES to 3333MHz 12-16-15-25-1T with a voltage of 1.84v:
The highest achievement was 3426MHz 12-16-15-35-1T at 1.975v before I stopped to avoid any damage on the memory modules and the CPU:
Thoughts & Verdicts
Apacer surprise us with introduction of this flagship overclocking memory into the market. We never thought that they would compete in this MHz war to put their name on par with other performance memory manufacturers such as Corsair, G.Skill, Team Group, Kingston, Avexir etc. The Apacer ARES 3000MHz C12 is an excellent memory kit for overclocking. This memory performed stably at the rated speed and timing. Somehow I was a little bit disappointed with the lack of performance at higher clock speeds because of how loose the timings had to go, but once I tightened them back up and got the memory performed slightly better than what is offered by XMP profile.
The gigantic heatspreader looks sexy and aesthetically appealing. With the unique heat pipe cooling heatspreader you will not have to worry about the modules getting too hot. One thing I did notice is that you may have problems with some aftermarket CPU coolers. I am using custom water cooling with the test rig so I didn't have any issue with that.
With memory intensive applications and games these days, 8GB seems to be a minimum for now. For instance, the recently released game, Call of Duty: Ghosts requires minimum 6GB of RAM. This kit costs so much because its memory ICs are hand-picked and requiring a lot of patience and time to find the chips that meet the specifications.
Last but not least, I would like to thank BuildTechnology for sending this memory kit for review. They could be reached at:
Distributor: BuildTechnology Supply Sdn. Bhd.
Address: 1st Floor, Left Wing Infinite Centre, Lot 1, Jalan 13/6, 46200, Petaling Jaya, Selangor, Malaysia.
Telephone: +603-79553699
Fax: +603-79553611
Performance: 5/5
Materials: 5/5
Specifications: 5/5
Appearance: 5/5
Performance/Price Value: 4/5
Pros:
+ Great performance and stable at rated speed/ timing (XMP)
+ Impressive overclock capability
+ Aesthetically appealing
+ 8GB capacity for today's memory hungry applications/ games
Cons:
- Too expensive
- Not "plug and play" on all motherboards
- Green PCB may be not so attractive to some of us
- Heat pipe may be too big for some aftermarket CPU coolers and not removable
- 3-year warranty only, not life-time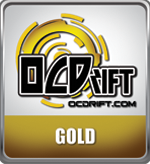 APACER ARES 3000MHz C12 received Gold Award from OCDrift.com
Disclaimer: OCDrift.com gives out our own award based on the Hardware Performance, OverClocking Ability, Innovation, and Value as determined by the reviewer