Review: ASUS R9 280X Matrix Platinum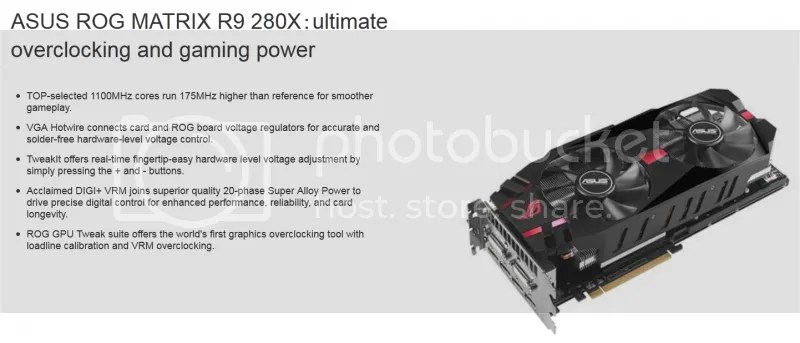 The Matrix is designed to be incredibly overclockable and provide the best graphics performance and gaming experience. The ASUS R9 280X Matrix Platinum is a handpicked and factory-overclocked at a core frequency of 1100MHz and GDDR5 video memory frequency of 1600MHz (6400MHz effective). It is based on the Tahiti XTL chip, being a slightly upgraded, rebranded Radeon HD 7970 GHz Edition. Today, we are going to take a look at what is so special about this graphics card.
Product Link: https://www.asus.com/Graphics_Cards/MATRIXR9280XP3GD5
Suggested Retail Price: RM 1,499
Specifications
Unboxing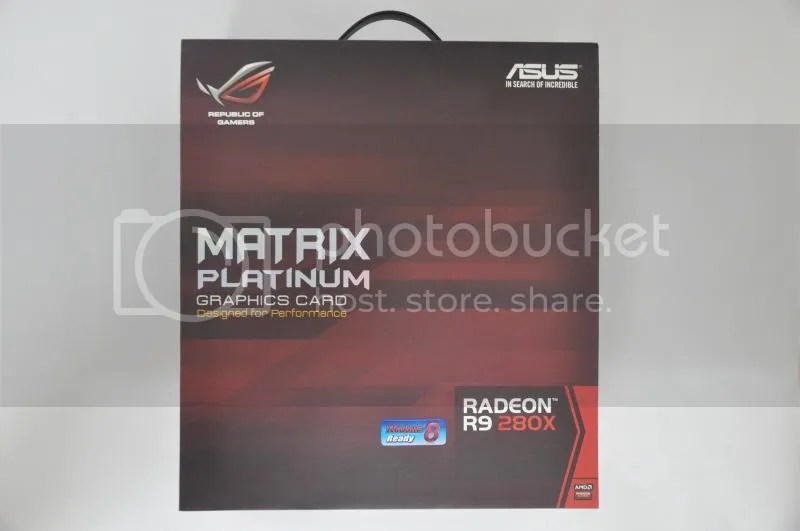 The graphics card is shipped in a huge red box featuring Republic of Gamers (ROG) design.
Now, let's have a peek on the graphics card that is really a BEAST…

The graphics card comes in a red/black theme with a unique twin-fan cooler. ASUS cooling thermal design achieves 20% lower temps with all-copper heatpipes so heat is removed efficiently. It also generates six times greater airflow yet performs three times quieter than reference in idle and full load thanks to dual 100 mm sound-dampening fans.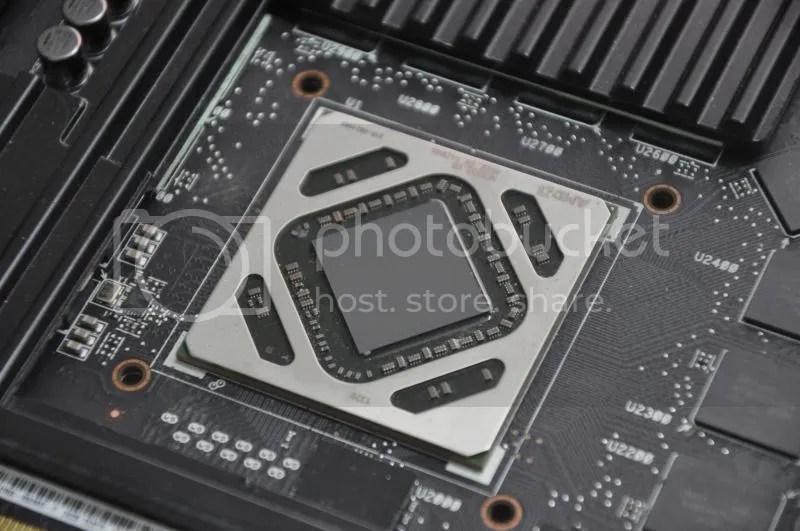 AMD's award-winning 28-nanometers GCN Architecture known for unrivalled performance and efficiency. The GPU is packed with groundbreaking features like AMD PowerTune and CrossFire (CF) technologies.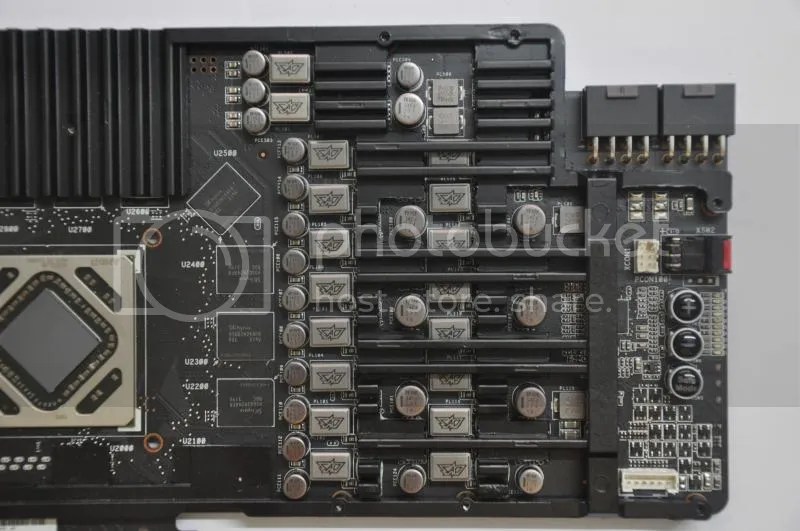 Let's observe on the PCB area of the graphics card. The Matrix Platinum is built with carefully-designed massive 20-phase power delivery to ensure ample room for experimental performance tuning. Its DIGI+ VRM digital voltage regulation design augments precision overclocking capabilities, which are further supported by the use of hardened Super Alloy Power chokes, capacitors and MOSFETs. The RAM uses Hynix H5GQ2H24AFR-R0C IC, which is rated at GDDR5 @ 1600MHz at 1.5v.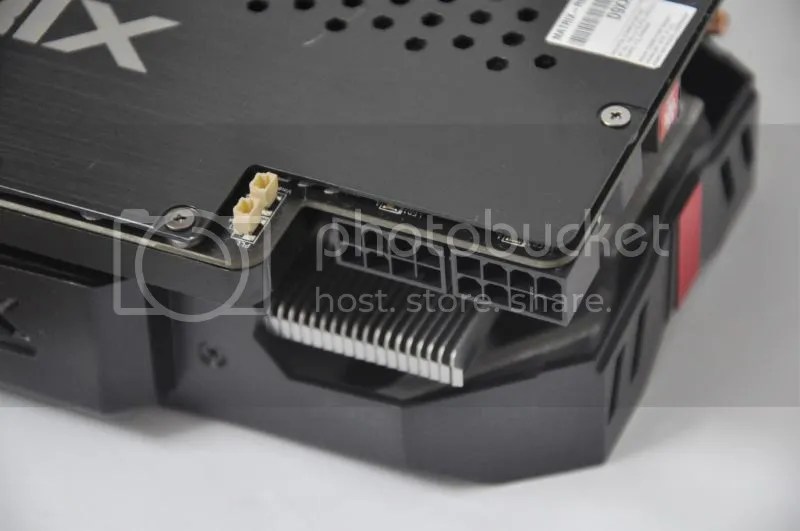 The graphics card is equipped with two 8-pin PCIe connectors. Also spotted, VGA Hotwire connectors for voltage modification.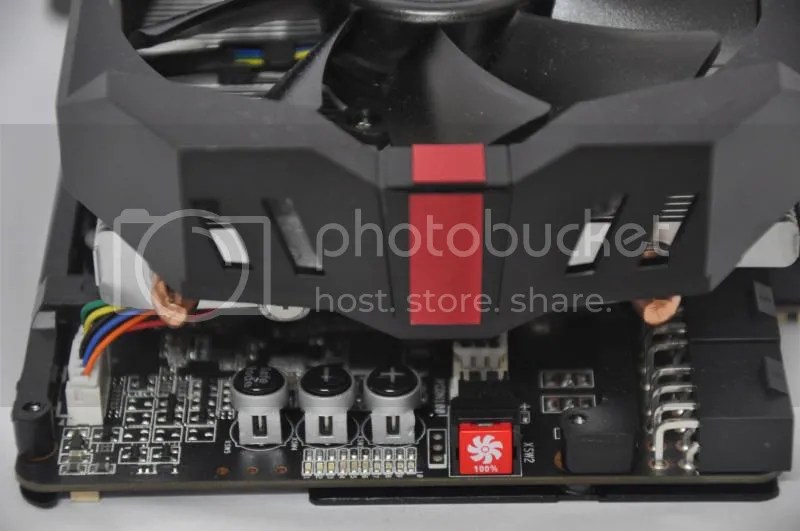 Turbo Fan Activator button instantly trigger the dual 100mm fans to 100% speed regardless of driver settings. TweakIt offers real-time fingertip-easy hardware level voltage adjustment by simply pressing the + and - buttons. The Safe Mode button resets the graphics card back to default frequencies and BIOS settings.

The Crossfire connectors support up to 4-way CF. Yes, the graphics card comes with dual BIOS chips as you could see from the BIOS switch.

The I/O panel includes two Dual Link DVI ports and four DisplayPort ports enough to support Ultra HD aka 4K as well as AMD Eyefinity.

The back side of the graphics card is equipped with a metal backplate.

The color-coded LED MATRIX indicator offers an instant and easy-to-understand display of current GPU load levels.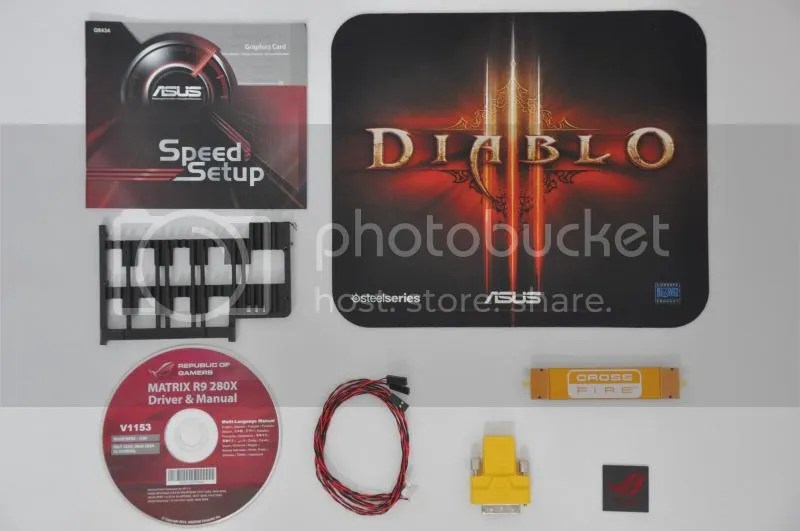 ASUS bundled the card with a Diablo III mouse pad, user manual guide, a driver and software CD, a DVI-HDMI adapter, VGA Hotwire kit, a Crossfire bridge (not ROG's) and a LN2 Mos Heatsink for extreme overclockers.
Test Setup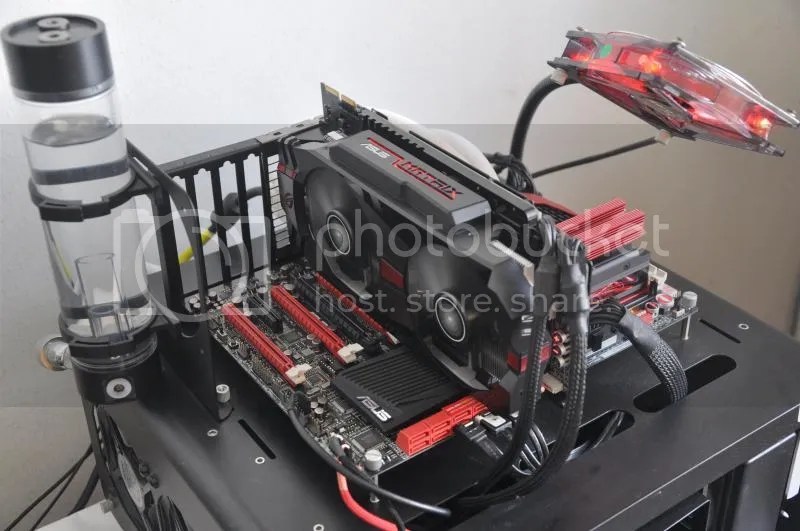 CPU: Intel Core i7 4770K overclocked @ 4.625GHz
MB: ASUS Maximus VI Extreme
DRAM: Apacer ARES 3000MHz C12 2 X 4GB @ 3000MHz 12-14-14-25-1T
GPU: ASUS R9 280X Matrix Platinum, Driver Catalyst 13.11 Beta V1
Storage: 2x Crucial M4 128GB
ODD: LiteON DVD-RW
PSU: Corsair AX1200
Cooling: Custom watercooling - EK Supreme HF plate #6 CPU waterblock, 2x XSPC RX360 radiator, Swiftech MCP655 pump, EK Multioption X2 Advanced reservoir, XSPC 1/2″ ID 3/4″ OD white tubing,  12x Scythe GT AP-15 1850rpm 120mm fan + Aerocool Shark 120mm fan, Coolaboratory Liquid Pro thermalpaste etc.
Casing: DimasTech Easy Dual V2.5 Bench Table
Monitor: Dell U3011 (2560 x 1600) & Dell U2312HM (1920 x 1080)
OS: Windows 7 Ultimate 64-bit SP1
Software & Tools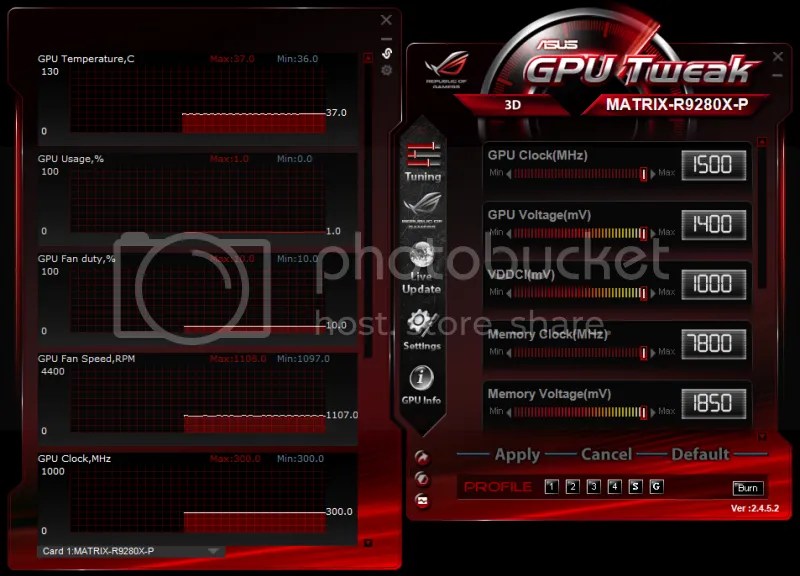 ASUS GPU Tweak - an overclocking tool with GPU and memory tuning, overvolting, GPU loadline calibration and VRM frequency tuning - allowing for the most extensive control and adjustment parameters for maximum overclocking potential.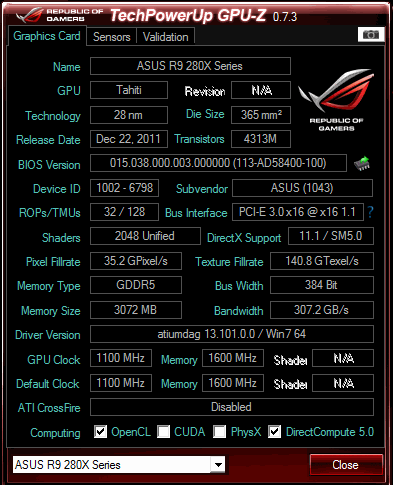 ASUS ROG GPU-Z - displays the GPU information.
Stability Tests
MSI Kombustor 2.5.2

The graphics card run stable for 16 minutes with the GPU core hit 62C maximum temperature.
Synthetic Benchmarks
3DMark 13 Fire Strike

3DMark 13 Fire Strike (Extreme)

3DMark 13 Ice Storm

3DMark 13 Cloud Gate

3DMark 11 (Entry)

3DMark 11 (Performance)

3DMark 11 (Extreme)

3DMark Vantage

3DMark Vantage (Extreme)

3DMark 06

3DMark 05

3DMark 03

Unigine Heaven 4.0 (2560 X 1600)

Unigine Valley 1.0 (2560 X 1600)

Cinebench R15

Game Benchmarks (2560 x 1600)
Bioshock Infinite

Metro Last Light

Tomb Raider

S.T.A.L.K.E.R: Call of Propyat

Sniper Elite V2 (1920 X 1080)

Sleeping Dogs

Street Fighter IV

Resident Evil 6

PLA

Final Fantasy XIV

GRID 2

Far Cry 3

Dirt Showdown

Crysis 3

Battlefield 3

Batman Arkham City

Aliens Versus Predators

Lost Planet 2 (Test A) 1920 x 1080

Lost Planet 2 (Test B) 1920 x 1080

Overclocking
Default GPU frequency is 1100MHz and 1600MHz for the video memory. With a supply voltage of 1.3v for the GPU I managed to get a frequency of 1290MHz for the GPU and video memory frequency of 7250 MHz

Thoughts & Verdicts
ASUS R9 280X Matrix Platinum has fulfilled overclockers and gamers' dream to become the perfect graphics card for their needs. It is packed with state-of-the-art components, outstanding overclocking potential, impressive design and remarkable cooling technology. So if you want the best graphics card for gaming and overclocking, this is the best R9 280X to grab.
Lastly, I would like to thank ASUS Malaysia for sending this graphics card for review.
Performance: 5/5
Materials: 5/5
Specifications: 5/5
Appearance: 5/5
Performance/Price Value: 5/5
Pros:
+ Impressive performance
+ Innovative overclocking features and components
+ Excellent build with 6 connectivity ports
+ Twin-fan cooler is silent when not in Turbo Fan is not activated
+ State-of-the-art GPU Tweak
+ Great accessories package
Cons:
- Heavy
- Takes up 2.5 slots so beware of that if you are going to CF them on your motherboard, they are huge!
- No game bundle
- CrossFire bridge is not of ROG's design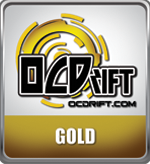 ASUS R9 280X Matrix Platinum received Gold Award from OCDrift.com
Disclaimer: OCDrift.com gives out our own award based on the Hardware Performance, OverClocking Ability, Innovation, and Value as determined by the reviewer

One of the most respected OverClocker here in Malaysia with vast knowledge in Motherboard, Graphics Card and Memory. The nick "owikh84" is not only well known in local tech sites but also international forums such as XtremeSystems.org, Overclock.net and so on.