ASUS Republic of Gamers (ROG) today announced Matrix GTX 980, an ultimate enthusiast gaming graphics card that achieves breathtaking performance with the latest NVIDIA® GeForce® GTX™ 980 graphics-processing unit (GPU).
ROG Matrix GTX 980 builds on the renowned and highly-trusted ROG Matrix legacy as the coolest, quietest and most readily-overclocked gaming graphics cards available. ROG Matrix GTX 980 achieved a phenomenal score of 28557 on the 3DMark® 11 Performance benchmark test, earning it a coveted spot among the world's top-performing graphics cards. With support for next-generation 4K/UHD (ultra-high-definition) gaming resolutions of up to 4096 x 2160 pixels, the card delivers incredible gaming experiences today and far into the future.
ROG Matrix GTX 980 employs DirectCU II cooling and CoolTech fan technologies along with the Memory Defroster feature to create the perfect balance between spectacular power and out-of-the-box simplicity — all dressed up in the seductive ROG wardrobe.
Hand-picked quality for breathtaking performance
ROG Matrix GTX 980 benefits from hand-chosen cores to deliver truly impressive clock speeds of 1342MHz (boosted), an incredible 126MHz faster than reference designs.
For serious gamers, this incredible speed significantly boosts performance by up to 13% for super-smooth frame rates in even the most demanding games. With 4GB of high-speed GDDR5 video memory on board, ROG Matrix GTX 980 enables gamers to enjoy very high resolutions and detail levels.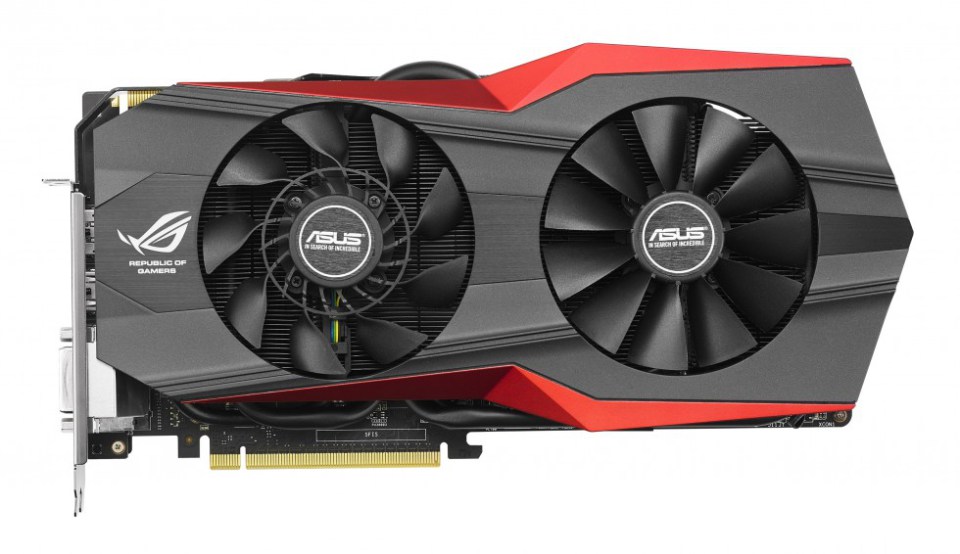 Engineered for extreme user-friendly tuning and overclocking
ROG Matrix GTX 980 is packed with advanced and exclusive hardware and software features designed to make overclocking as simple and safe as possible.
Memory Defroster is a feature designed to excite extreme overclockers. This clever technology quickly defrosts the graphics card's memory during below-zero overclocking to ensure sustained stability. Extreme overclockers will also appreciate the liquid-nitrogen (LN2) jumper switch as it enables even more overvolting options, allowing the most adventurous users to unleash maximum greater power from their graphics cards.
ROG Matrix GTX 980 has a Safe Mode that allows users to overclock with complete confidence, as a single button push will restore default BIOS settings instantly.
To support stable overclocking, ROG Matrix GTX 980 is also equipped with exclusive Digi+ voltage-regulation modules (VRMs) with Super Alloy Power technology. The Digi+ VRM delivers 14-phase power and digital voltage regulation, while Super Alloy Power's Japanese-made 10k black-metallic capacitors and extremely-efficient MOSFETs withstand much greater stress and heat due to the application of specially-formulated materials.
The combination of Digi+ VRM and super-strength Super Alloy Power components means that ROG Matrix GTX 980 is forged for high-load performance and extreme overclocking without annoying whines and buzzing noises. Hardcore overclockers can enjoy plenty of headroom for experimental performance tuning without creating gameplay distractions.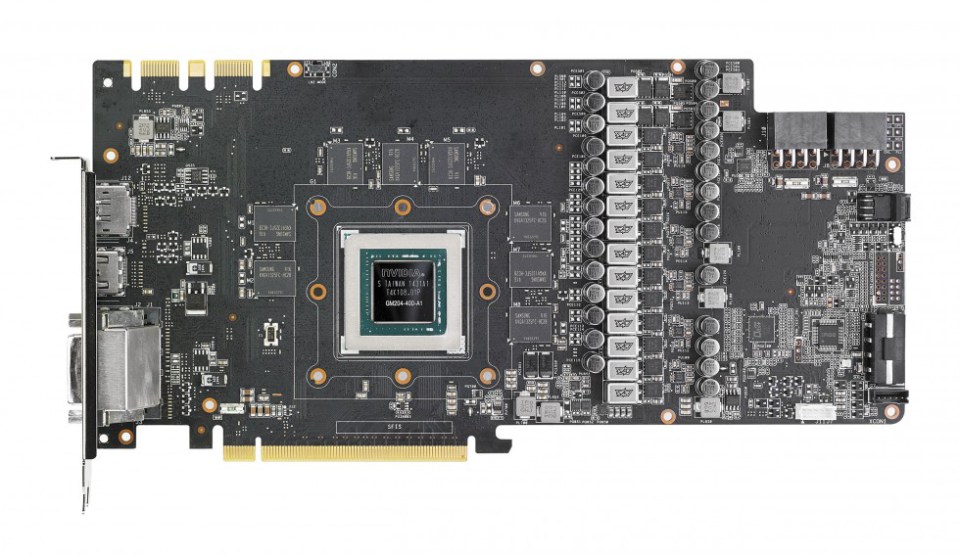 Coolest of the cool and finished with renowned ROG panache
ROG Matrix GTX 980 comes equipped with DirectCU II and CoolTech fan technology to keep the card ultra-cool at all times.
DirectCU is an innovative thermal technology exclusive to ASUS graphics cards. It puts highly-conductive 10mm copper cooling pipes in direct contact with a card's GPU, so heat is dissipated quickly and with extreme efficiency. ROG Matrix GTX 980 has a heat-sink finished in a stunning matte black, making the card look great as it is kept cool.
ROG Matrix GTX 980 also features CoolTech fan technology. Employing a hybrid blade and bearing design, with inner radial blower and outer flower-type blades to provide multi-directional airflow that accelerates heat removal, the fan ensures high-end graphics performance that is highly stable. In addition to providing advanced cooling performance, the fan also is incredibly quiet due to the carefully-tuned, noise-minimizing ramp. With CoolTech fan technology, ROG Matrix GTX 980 delivers up to 25% (11°C) cooler and 3-times (8dB) quieter performance than reference designs.
For a final dash of style packed with substance, ROG Matrix GTX 980 features a gorgeous color-coded LED that shines brightly and changes shades to reflect the GPU's load level, providing a useful visual guide for both casual and hardcore gamers.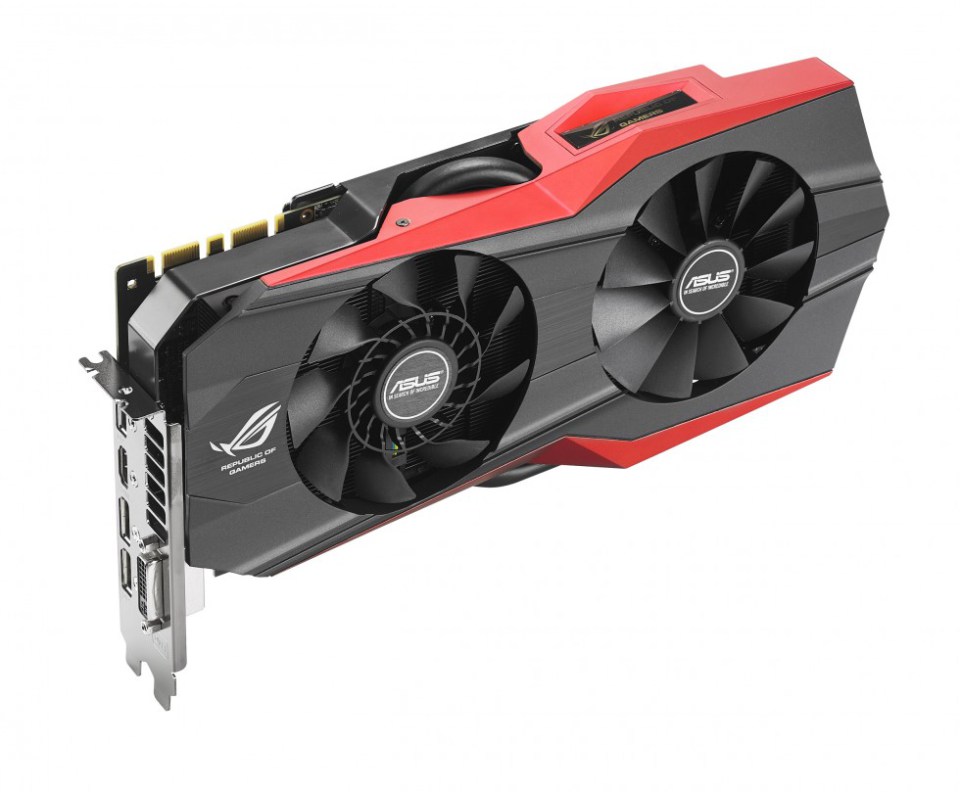 Safe and intuitive software overclocking and sharing with GPU Tweak
ROG Matrix GTX 980 includes GPU Tweak, an easy-to-use utility that gives users intuitive control over GPU and video-memory clock speeds and voltages, cooling-fan speeds and power-consumption thresholds, so they can overclock easily and with high confidence.
The exclusive ROG edition of GPU Tweak adds detailed GPU load-line calibration and VRM-frequency tuning, allowing incredibly fine control over multiple parameters for maximum overclocking and the potential to break world records. Additionally, the GPU Tweak Streaming tool lets users share on-screen action over the internet in real time, so others can watch live as games are played. It is even possible to add a title to the streaming window along with scrolling text, pictures, and webcam images.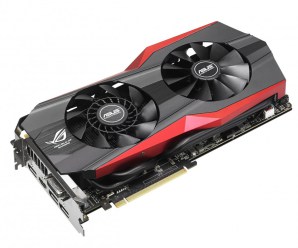 AVAILABILITY & PRICING
ASUS ROG Matrix GTX 980 will be available from December worldwide. Please contact your local ASUS representative for further information.

One of the most respected OverClocker here in Malaysia with vast knowledge in Motherboard, Graphics Card and Memory. The nick "owikh84" is not only well known in local tech sites but also international forums such as XtremeSystems.org, Overclock.net and so on.