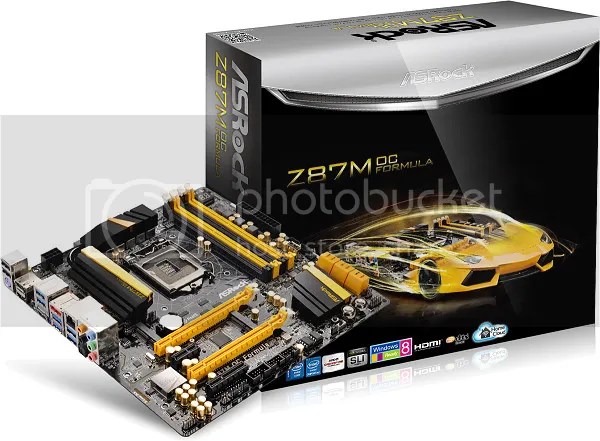 ASRock motherboard (mobo) series 'OC Formula' is developed by one of the world overclocking legend, Nick Shih, with the aim to achieve the highest overclocking record. In the Z87 platform, ASRock released OC Formula series in two models, the Extended-ATX based ASRock Z87 OC Formula (REVIEW) and the micro-ATX form factor ASRock Z87M OC Formula (Z87M OCF) which I am going to review here.
Perhaps some of us might think that smaller sized motherboards will have bad overclocking capabilities due to fewer components equipped on the board. Can ASRock OC Formula Z87M prove that this is wrong? Let's take a look at what this little board can do and what it can't.
Product Link: http://www.asrock.com/mb/Intel/Z87M%20OC%20Formula/
Suggested Retail Price: RM 599
Specifications
Unboxing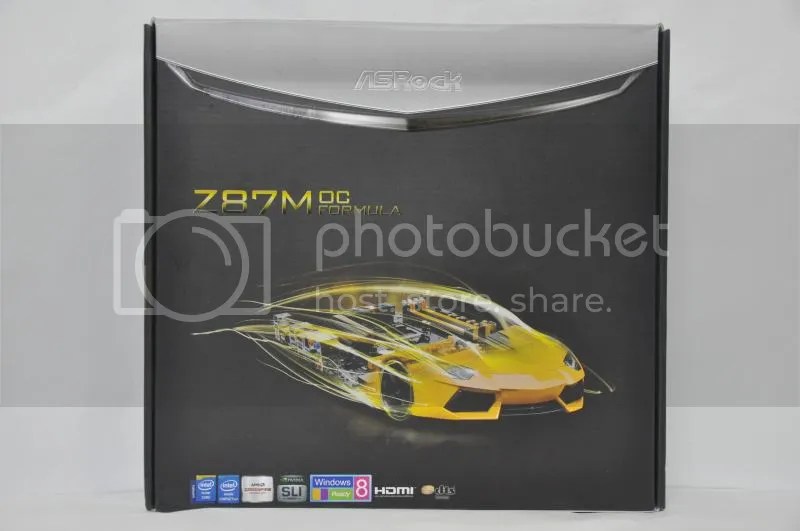 The mobo is delivered in a grey cardboard box.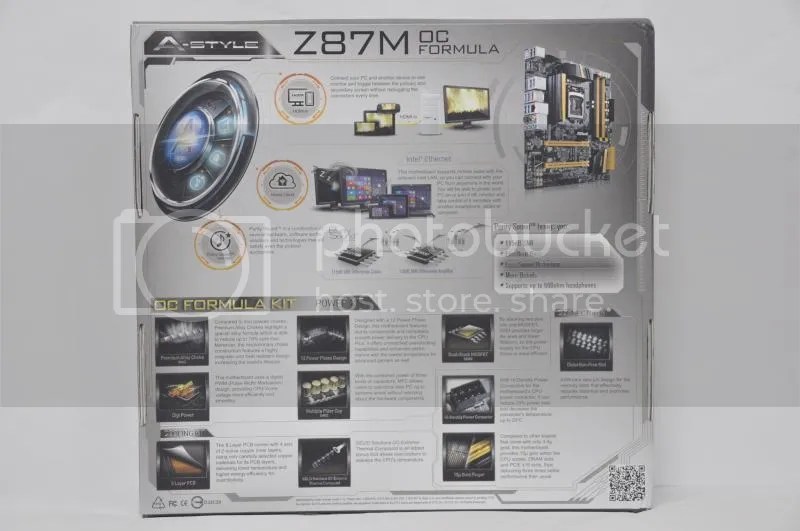 The back of the box describes the features carried by this board as well as what the platform can do.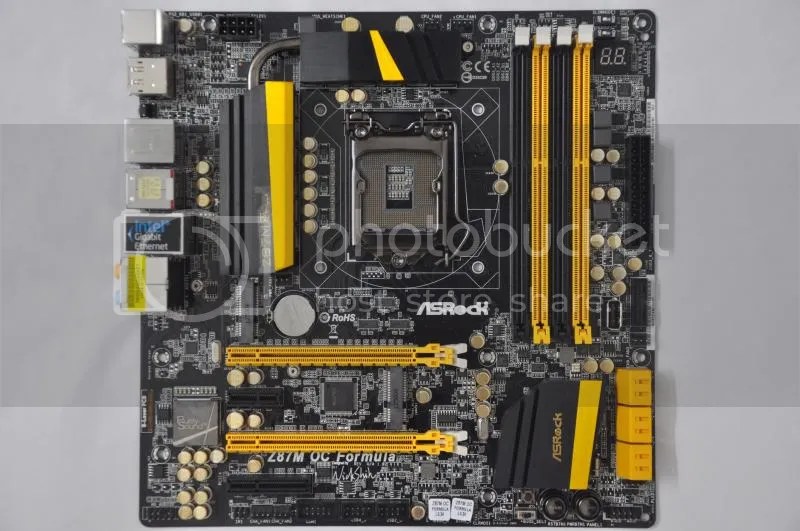 The Z87M OCF features a black/ yellow/ gold colour scheme and conforms to micro-ATX form factor with measurement of 24.4 cm x 24.4 cm.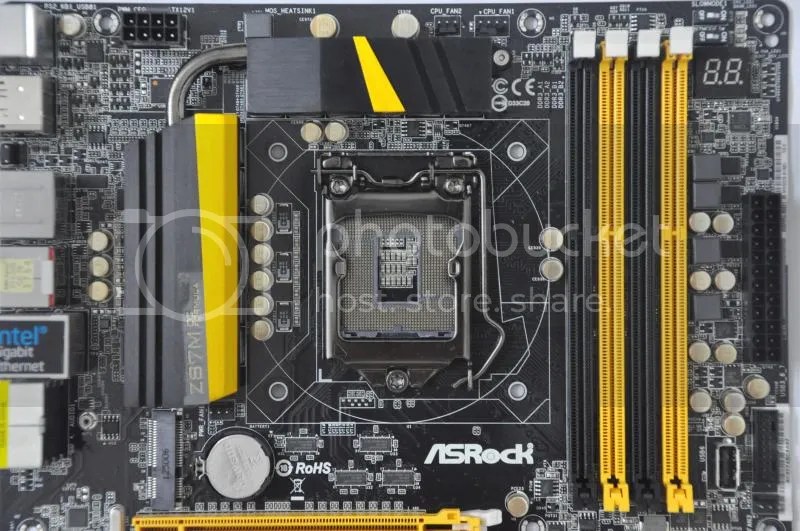 The board is compatible with socket LGA1150 based Intel's 4th Generation Core i7, i5 & i3/ Pentium/ Celeron processors. There are 12 digital power phase system to supply enough power for extreme overclocking. The four DIMM slots can support a total of 32GB of RAM with maximum frequency of 3000MHz on overclock.

Let's move on to the expansion slots. You will get two PCIe 3.0 x16 slots that support up to 2-way Quad-SLI and Quad-CrossFireX. Other than that, it comes a pair of PCIe 2.0 slots running at x4 and x1, respectively. Also spotted, a half mini-PCIe slot as well as one mSATA/mini-PCIe slot.

For storage needs, this board packs a total of six SATA 6Gbps ports and an eSATA port powered by the Z87 chipset and supporting RAID 0, 1, 5 and 10.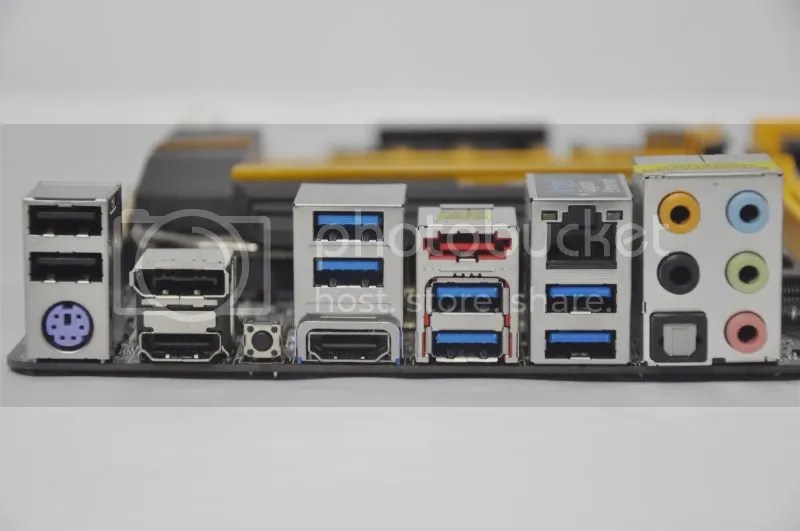 The rear IO panel included:
1 x PS/2 Mouse/Keyboard Port
1 x HDMI-Out Port
1 x HDMI-In Port
1 x DisplayPort
1 x Optical SPDIF Out Port
1 x eSATA Connector
2 x USB 2.0 Ports
4 x USB 3.0 Ports (Intel Z87) (ASMedia Hub)
2 x USB 3.0 Ports (Intel Z87)
1 x RJ-45 LAN Port with LED (ACT/LINK LED and SPEED LED)
1 x Clear CMOS Button
HD Audio Jack 7.1 Channels

The board is an 8 layer PCB with 4x 2oz copper, which is specially designed for overclocking effectively reduces interference and noise generated by high-speed overclocking, and effectively improves the signal quality and overclocking stability.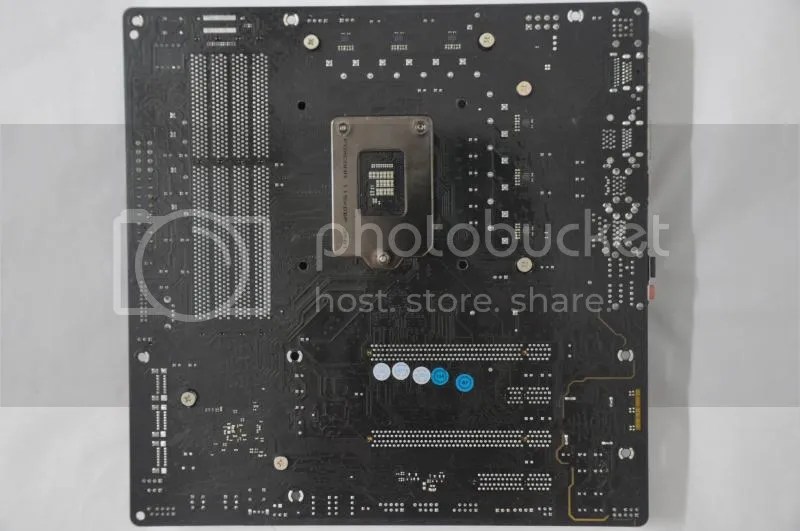 Back side of the board is equipped with a backplate to give retention to the CPU socket on the top of the board.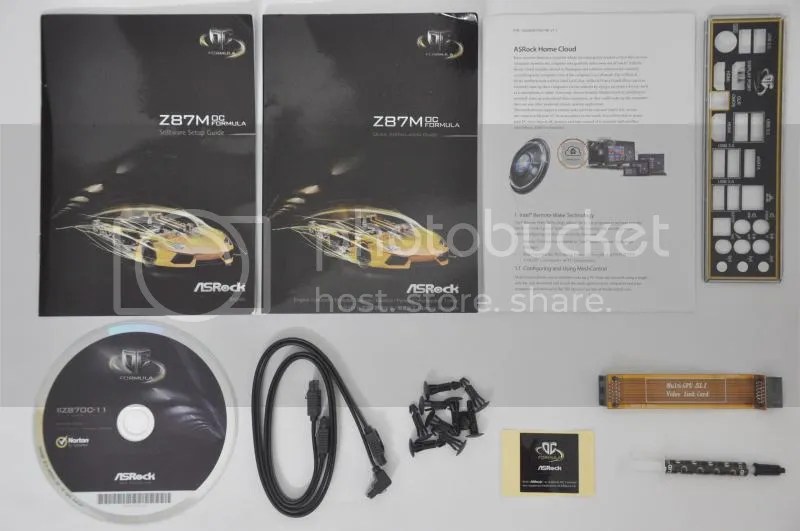 The accessories included in the package are quite simple. A commonly used thermal paste, GELID GC-EXTREME, is included in the package. For those of you who do not use a casing, ASRock provides a set of spacers called OC Stands to put the board without a case.
Test Setup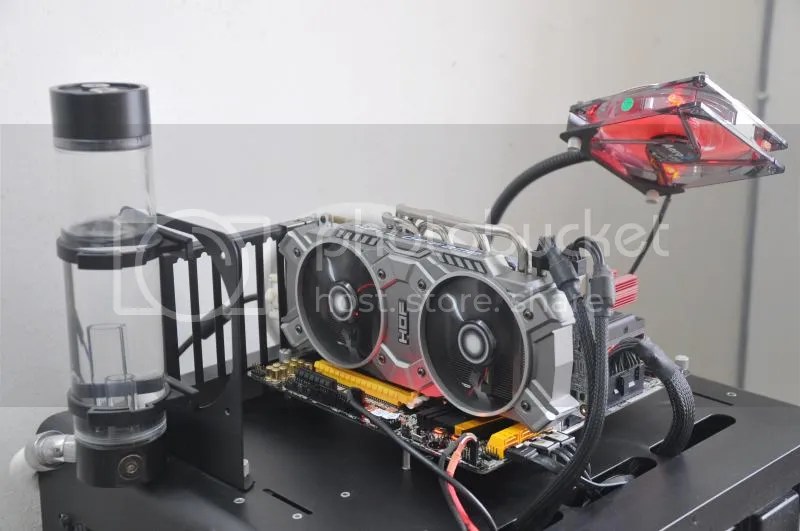 The UEFI BIOS
"Nick Shih's OC Profile" - select preset setting profiles suggested by the OC Guru – Nick Shih. There is no "5.0GHz" profile, unfortuna

DRAM Presets - various IC to pick, I meant there are so many presets available

DRAM Tweaker – pick and tick RAM timing according to JEDEC and XMP specs individually

Hardware Monitor – provides information on fan speeds, voltages and temperatures


Software & Tools
ASRock Formula Drive - Tweak overclocking in the OS environment.
Timing Configurator - Display the memory timings in the OS. Unfortunately, due to Intel's lockdown it is unable to adjust timings real-time in the OS for now.
Rapid OC Configuration - Allow users to apply hotkeys for each of the functions, as well as adjust how much each press of the button adjusts each of the BCLK/ CPU Multiplier/ CPU Voltage.
ASRock XFast USB - Instantly accelerates the performance of USB devices.
ASRock XFast LAN - Allow users to enjoy more speed, easier multitasking, enhanced multimedia experience, and more.
Stability Tests
LinX 0.6.4 w/ AVX

Due to the limitation of my 4770K, I could only stress the chip at 4.4GHz @ 1.295v. This overclock passed LinX without any error in about one hour. One of the cores hit 96C during loading.
Benchmark Tests
Super Pi 32M/ MaxxMEM/ AIDA64 Cache and Memory Benchmark

Memory Benchmarks
Hynix-MFR IC: Apacer ARES 3000C12 2 X 4GB @ 3000MHz 12-14-14-25-1T

Hynix-CFR IC: G.Skill TridentX 2800C11 2 X 4GB @ 2933MHz 11-14-14-25-2T

Samsung IC: G.Skill TridentX 2600C10 2 X 4GB @ 2800MHz 9-12-12-21-1T

PSC IC: Corsair DominatorGT GTX4 2533C9 2 X 2GB @ 2600MHz 8-12-8-28-1T

BBSE IC: G.Skill RipjawsX 2133C8 2 X 2GB @ 2500MHz 8-11-7-28-1T

Highest Achievement: 3400MHz 12-15-15-35-1T


Game Benchmarks
Thoughts & Verdicts
Despite bearing the micro-ATX form factor, the ASRock Z87M OC Formula proves to us that the overclocking capabilities of a mobo cannot be judged by the size of the board. Extensive tuning options, many overclocking profiles are pinned onto it, as well as dozens of presets that are included in the DRAM option, this board is more than enough to make any overclocker achieving the highest overclocking results. With the extreme overclocking features such as beefy 12 digital power phase system, LN2 mode and many more, this board is designed to survive under extreme circumstances. If you want a micro-ATX solution and are looking for overclocking features, this little monster is really deserved to go into your shopping list.
Special thanks to storm88 for sending me the board for review.
Thank you NickShih for such a great board!
Performance: 5/5
Materials: 5/5
Specifications: 5/5
Appearance: 5/5
Performance/Price Value: 5/5
Pros:
+ Affordable price
+ Excellent overclocking performance
+ Unique black, yellow and gold colour scheme
+ Equipped with extreme overclocking features
+ Multi-GPU support
+ UEFI BIOS has lots of overclocking options and preset profiles
Cons:
- Laggy UEFI BIOS and not so friendly as several keypresses are needed when entering the values
- ASRock Formula Drive loading could be faster
- Lack of LucidLogix Virtu MVP software for QuickSync
- Label on VRM heatsink is peeling off easily
- Can't adjust memory timings with Timing Configurator in the OS at the time of writing, due to Intel's lockdown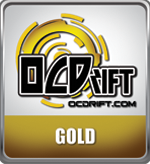 ASRock Z87M OC Formula received Gold Award from OCDrift.com
Disclaimer: OCDrift.com gives out our own award based on the Hardware Performance, OverClocking Ability, Innovation, and Value as determined by the reviewer

One of the most respected OverClocker here in Malaysia with vast knowledge in Motherboard, Graphics Card and Memory. The nick "owikh84" is not only well known in local tech sites but also international forums such as XtremeSystems.org, Overclock.net and so on.