The Z87 XPower is MSI's flagship motherboard (mobo) in enthusiast Z87 platform. The board supports the latest generation of Intel Haswell processors based on socket LGA1150 and loaded with all the goodness you would expect from XPower lineup, such as multiple overclocking potentials, the latest Killer Ethernet E2205 LAN, AudioBoost sound chip and many more.
I have reviewed, tested and benchmarked this MSI overclocking board on my watercooled test bench. Let's proceed to our review.
Product Link: http://www.msi.com/product/mb/Z87-XPOWER.html
Suggested Retail Price: RM 1,599
Specifications
Unboxing

The XPower is shipped in a huge box with a big yellow "X" on the front which emphasizes that it is an XPOWER product that is proudly designed by MSI.

The yellow-black themed mobo is an XL-ATX form factor with dimensions of (34.5 x 26.4) cm. Seriously, it is the largest board that I have ever reviewed so far. Make sure that your case is capable of housing this huge mobo.

Let's take a look closely at the CPU socket area. The XPower is equipped with a whopping 32 digital phase power system to deliver sufficient power supply for extreme overclocking. Next, we have a pair of 8-pin CPU power connectors and four DIMM slots that support up to 32GB of DDR3 dual channel RAM and speed up to 3000MHz+ when overclocked.

To the right of the memory slots are the V-Check Points block, Power button, Reset button, Power Discharge button, CPU ratio control buttons, BCLK control buttons, OC Genie button, Base Clock Step switch.

The board packs four PCIe 3.0 16x slot supporting up to 4-way nVidia SLI/ AMD CrossFire (CF). The operating modes are as the following:
4-way @ x8/x8/x8/x8
3-way @ x8/x8/x16
2-way @ x16/x16
1-way (single) @ x16
Besides that, there are also two PCIe 2.0 x1 slots provided. To the upper right of the first PCIe x16 slot we have a 6-pin auxiliary PCIe connector to supply additional power to the PCIe bus when two or more graphics cards are used. To the lower right we can see an mSATA connector which accepts any mSATA based SSD in the market.

Also spotted, an AudioBoost chip powered by Realtek ALC1150 audio codec chip for the best audio solution. The yellow line separates the main board PCB from the integrated audio board PCB. When the board is powered up, the yellow LEDs of the audio chipset panel and the separating line will illuminate. That's cool!

For storage needs, we have six SATA3 ports powered by the Intel Z87 controller and the other four ports are controlled by the ASMedia controller.

The rear I/O panel houses a PS/2 keyboard and mouse port, 2 USB 2.0 ports, 8 USB 3.0 ports controlled by the ASMedia controller, a Qualcomm Killer E2205 GigE NIC port, 2 HDMI video ports, a DisplayPort video port, a CMOS reset button, an optical S/PDIF audio output port, and 6 analog audio ports. With the Wi-Fi module plugged into the expansion port, 2 antenna ports tied to an Intel 802.11n Wi-Fi and Bluetooth controller are added to the rear panel.

The back side of the board has some backplates to give retention support to the heatsinks and CPU socket on top of the board. The XPower has an 8-layer PCB which should help the signals to be routed more efficiently therefore benefit extreme overclocking.

The package comes with a lot of stuffs! However for this review sample, I didn't find the MSI Gaming themed mousepad in the package. Perhaps someone must have kidnapped it already.
Test Setup
The UEFI BIOS
Software & Tools
MSI Command Center: to tweak overclocking in the OS.

MSI | Intel Extreme Tuning Utility: performance tuning and overclocking
Sound Blaster X-Fi MB 3: for realistic surround sound experience
Fast Boot: enables faster boot
Live Update 5: online update BIOS/ Driver/ Firmware/ Utility
Lucid Virtu MVP: enables GPU Virtualization, Virtual Vsync and Hyperformance features between integrated graphics and discrete cards

Killer Network Manager: enable network tweaking
Super-Charger:  enables fast USB charging for Apple products
Super-RAID: combines drives by Intel Smart Response or Rapid Start via a single button click
Stability Tests
LinX 0.6.4 w/ AVX
The 4770K was overclocked to 4.4GHz @ 1.29v with one of the cores hit 94C max. This overclock passed LinX for 45 minutes without any error.
Benchmark Tests
Super Pi 32M/ MaxxMEM/ AIDA64 Cache and Memory Benchmark

Memory Benchmarks
Hynix-MFR IC: Apacer ARES 3000C12 2 X 4GB @ 3000MHz 12-14-14-25-1T

Hynix-CFR IC: G.Skill TridentX 2800C11 2 X 4GB @ 3000MHz 12-14-14-25-2T

Samsung IC RAM:  G.Skill TridentX 2600C10 2 X 4GB @ 2800MHz 9-12-12-21-1T

PSC IC RAM:  Corsair DominatorGT GTX4 2533C9 2 X 2GB @ 2600MHz 8-12-8-28-2T

BBSE IC RAM: G.Skill RipjawsX 2133C8 2 X 2GB @ 2400MHz 8-11-7-27-1T

Highest Achievement: Apacer ARES 3000C12 2 X 4GB @ 3036MHz 12-14-14-25-1T

Game Benchmarks
Thoughts & Verdicts
The MSI Z87 XPower is seriously an excellent board in terms of performance. This board is equipped with 32 phase power design which shows that it is designed to break overclocking world records. Other than that, the so-called military class caps and chokes, LED debug, V-check points and a quite loads of other features that you would need for extreme circumstances.
Overclocking with the 4770K was impressive. I managed to push my chip to 4.7GHz without a sweat. It is much cooler without overheat issues like its little brother, the Z87 MPower MAX which I have reviewed not long ago. This could be due to the strong VRM design system that has been engineered on this board thanks to its high quality of premium components.
Meanwhile, memory overclocking on this board could be improved with a better BIOS. I could hardly push the Hynix-CFR kit more than 3000MHz like what I did easily on other flagship mobos but this board just refused to go higher even with excessive voltage applied. The PSC kit performed below par as compared to the MPower MAX. Somehow, overclocking with BBSE and Samsung kits on this board is as good the MPower MAX.
The included AudioBoost, Killer Ethernet E2205 as well as the 4-way multi GPU support would make any gaming enthusiast sitting constantly in front of monitor. Overall, the XPower will fulfill what your needs for overclocking and gaming.
Lastly, I would like to thank MSI Malaysia for sending the XPower for review.
Performance: 4/5
Materials: 5/5
Specifications: 5/5
Appearance: 5/5
Performance/Price Value: 4/5
Pros:
+ Excellent performance
+ Unique yellow and black colour scheme
+ 4-way SLI/ CrossFire support
+ High quality premium components
+ Included bunch of accessories
+ Great software package including LucidLogix Virtu MVP software
+ Intelligent UEFI BIOS
+ Informative user guide manual
Cons:
- The UEFI BIOS could be improved to be more user friendly
- Need more memory profile presets
- Slow Command Center
- Command Center Lite is not included as per advertised
- Memory overclocking is slightly below other brands' flagship boards
- The colour scheme might not be so appealing to some of us
- Can't adjust memory timings in the OS at the time of writing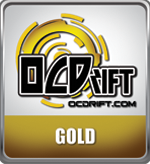 MSI Z87 XPower received Gold Award from OCDrift.com
Disclaimer: OCDrift.com gives out our own award based on the Hardware Performance, OverClocking Ability, Innovation, and Value as determined by the reviewer

One of the most respected OverClockers here in Malaysia with vast knowledge in Motherboard, Graphics Card and Memory. The nick "owikh84" is not only well known in local tech sites but also international forums such as XtremeSystems.org, Overclock.net and so on.